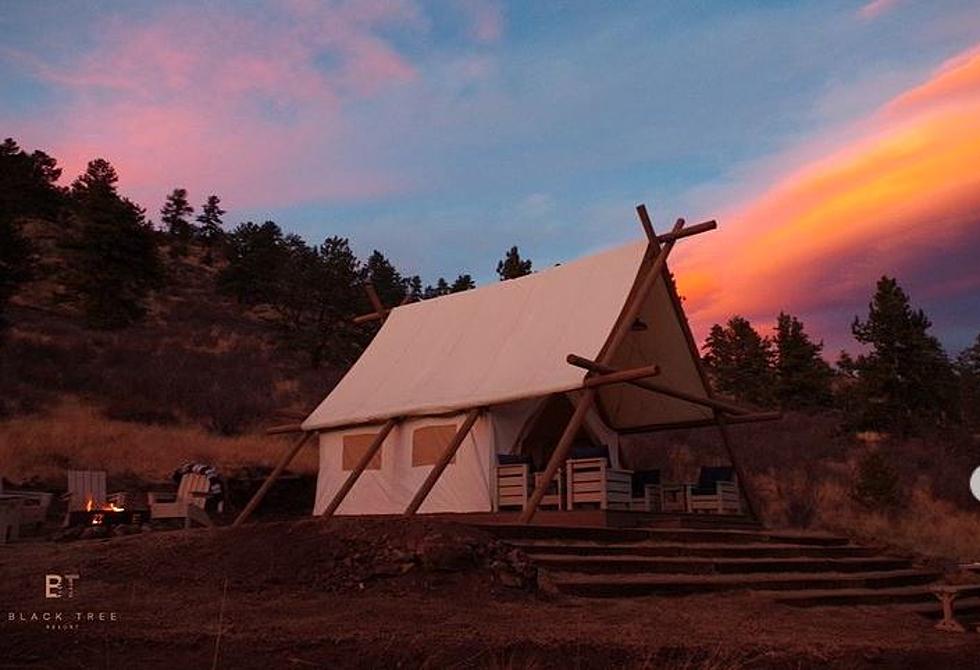 Colorado Resort Named Best in the Country to Get Your Glamp On
Black Tree Resort, Instagram
Colorado destinations top a lot of 'best of' lists, and this is just one more. USA Today's 10 Best Glamping Spots has named a Colorado resort a must-visit for those who want to unwind and unplug — but also enjoy a warm shower and not squatting in the bushes when nature calls. 
One of the best places in the U.S. for luxury camping, or 'glamping,' is right here in our Colorado backyard, though a bit of a trek for us here in the north. USA Today ranked Black Tree Resort near Lake George number four on its list of top glamping spots, stating that the getaway, which opened in the summer of 2019, is where 'high end meets high country.' That's accurate, considering accommodations start around $600 per night, it's not exactly for the budget camper.
For that price, however, you do get access to a private bathroom, electricity, three 'Colorado cuisine' meals and Pendleton (ooh) wool blankets. Not to mention the 'priceless' views. And, unlike the KOA, you'll have privacy from other campers.
'Unlike traditional campgrounds, where neighboring sites are right next to each other, our tents are thoughtfully spaced with privacy in mind,' the resort's website says.
Black Tree Resort is just minutes form Eleven Mile State Park, and within daytrip distance of Colorado's historic mining towns, hot springs and more.
You can see the full list from USA Today here. But, if you're 'glamping' on a tighter budget, fortunately Colorado has several other options, including places like Camp V and good ol' Airbnb finds.
20 Bucket List Items You Need to Do in Colorado in 2021
2020 has been a pretty garbage year for a lot of reasons as the
COVID-19 pandemic
has prohibited us
Coloradans
from doing a lot of things we love.
Concert season was basically canceled, and because of social distancing and other restrictions, a lot of activities we'd usually partake in have been put on hold.
However, if things return to normal in 2021, we'll undoubtedly be back to enjoying our great state. Here are 20 bucket list items you need to do in Colorado in 2021.