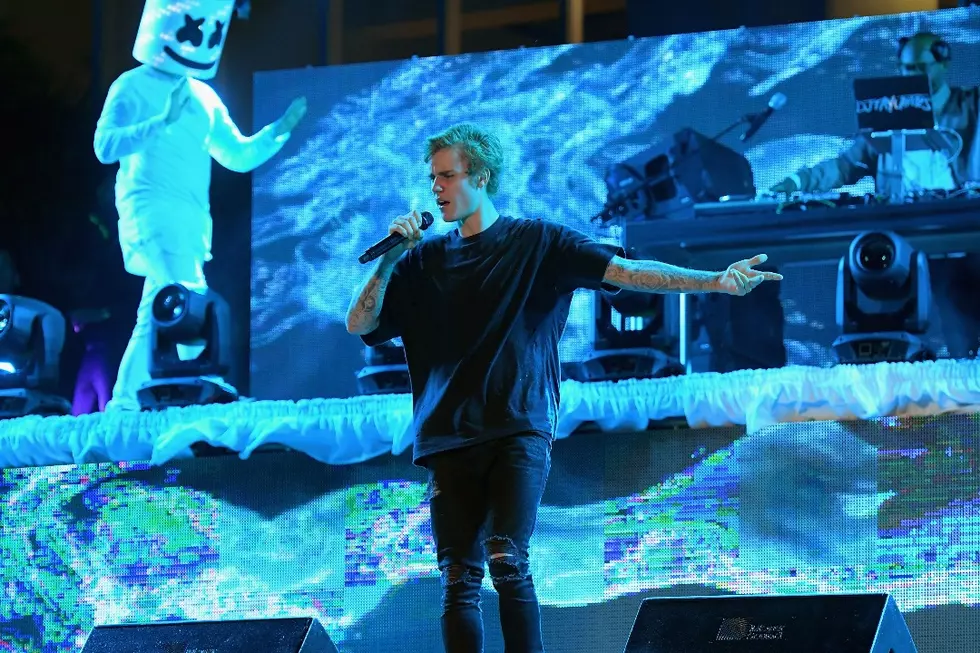 Justin Bieber Teases Lil Dicky 'Earth' Project Featuring Ariana Grande, Katy Perry + Many More
Gustavo Caballero, Getty Images
On Wednesday (April 17), Justin Bieber debuted a new video teaser for his upcoming collaboration with Lil Dicky, "Earth."
The sure-to-be-epic song and music video arrives on Thursday (April 18) at 9 PM PST according to the trailer. But Bieber and Lil Dicky aren't the only famous faces that will be featured, it seems.
Ariana Grande, Miley Cyrus, Halsey, Shawn Mendes, Snoop Dogg, Rita Ora, Katy Perry, Zac Brown, Brendon Urie, Wiz Khalifa, Charlie Puth, Hailey Steinfeld, Ed Sheeran, Adam Levine, Sia, John Legend, Backstreet Boys, Kevin Hart. Miguel, Lil Yachty, Meghan Trainor, Tory Lanez, John Legend, Bad Bunny, PSY, Benny Blanco and Leonardo DiCaprio are all mentioned in the teaser.
Lil Dicky and Bieber's manager, Scooter Braun, posted a reply to Bieber's video, writing, "People have no idea how insane this is."
On Monday (April 15), Lil Dicky broke the news that he and Bieber were collaborating.
"I think I have to start talking to you guys about this new song and video I'm putting out this week because I'm so excited," Lil Dicky said on social media. "I've really never been this excited for anything in my life. There's so many things I want to tell you but I just want to start with two simple words: Justin Bieber."
Fans are speculating that since DiCaprio is involved and because it's called "Earth," the song and/or video might be about the environment.
Pop Songs With Political and Social Messages