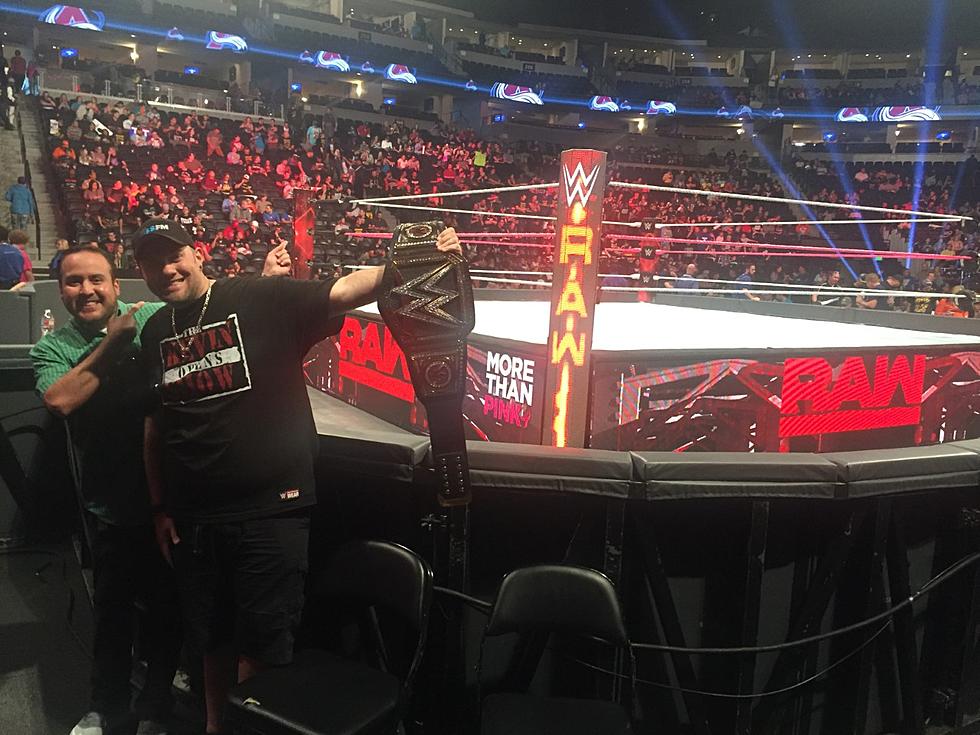 9 Things About Big Rob: #6 His Secret Hobby Is WWE
Photo: Big Rob TSM
So far in the 9 things we've talked about pretty much radio or work... Let's move on to some fun stuff! I have a hobby that I've had since I was a kid, that you might make fun of me for. Here's #6... Don't judge!
We didn't have cable much when I was a kid but I always found a way to keep up with the then, WWF! Yes, I am a lifelong Pro Wrestling, or as Vince McMahon would call it, sports entertainment fan! Hulk Hogan, Ultimate Warrior, "Macho Man" Randy Savage, the Legion of Doom, I loved them all! While I wasn't a "watch every week" kind of guy because of the cable situation, I watched and followed along as best I could. Mind you, this was pre-internet days so unless you watched it consistently, or read their magazines, you'd be lost! I had friends who had cable and I could watch with them, and even catch the occasional Pay-Per-View! Regardless, I was still a fan!
I started watching religiously, I'm talking every single Monday night, in the summer of 1997. We had cable and I was completely enamored with "Stone Cold Steve Austin!" He was my hero, and the start of the resurgence of Pro Wrestling for WWF and as far as I'm concerned saved them from losing the "Monday Night War" with WCW. Without guys like Stone Cold, The Rock, DX, etc. that place was in big trouble! Even if you don't watch any wrestling, you no doubt know Stone Cold and the Rock!
How big of a fan am I? I've been to 11 Wrestlemania events, which are their Super Bowl-like events! My first Wrestlemania was WM 19 in Seattle Washington at the then, Safeco Field. Ironically that was Stone Cold's last match, vs. The Rock. He retired from in-ring performing the very next night which made me so sad! But I digress… My next Wrestlemania wasn't until WM 24 in beautiful Orlando Florida! My BFF Mike and I then went to the following 9 Wrestlemania events! Houston, Phoenix, Atlanta, Miami, New York, New Orleans, San Francisco, Dallas, and back to Orlando. That was the last one we went to but they're gonna be in the new LA Stadium in 2023 so I might have to make that happen!
Do I still watch WWE? Yes. It's always on the DVR so I can quickly keep up. I always go to the events when in town too. Just went to the event at Ball Arena back in August with the fam, it was a blast! I'm digging the newer wrestling company, AEW, too! It has been a great alternative. So there you have it! Your boy Big Rob is a mid 30's wrestling geek. Please don't stop listening to my shows! What's your guilty pleasure TV show or form of entertainment? Email me BigRob@Townsquaremedia.com!
Big Rob looks back at the Drunken Monkey in Fort Collins!
One of the best bars in the history of bars is gone but we'll never forget the Drunken Monkey in Fort Collins, Colorado!