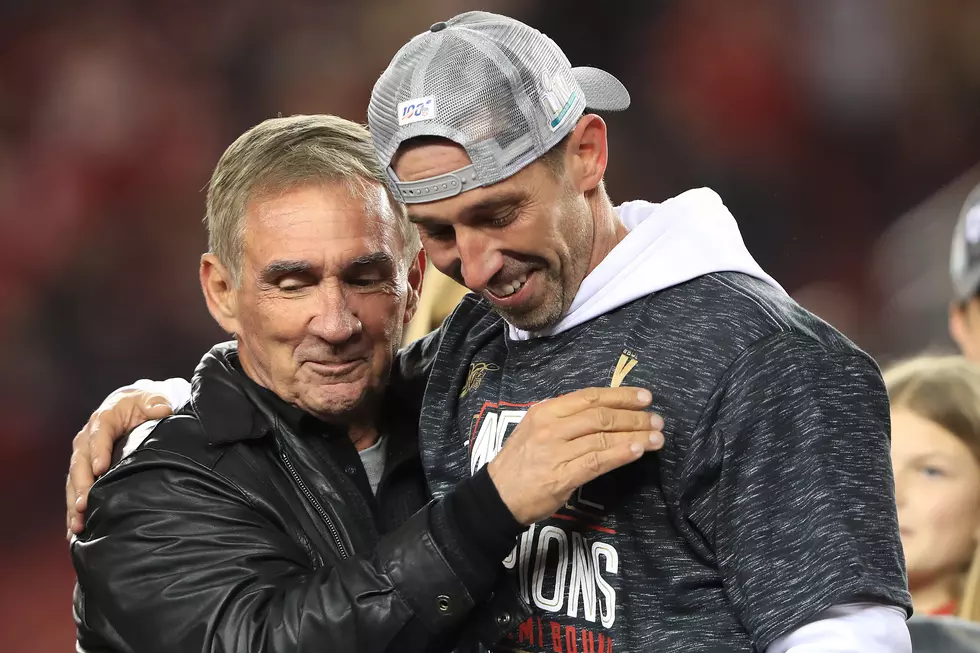 Shanahan Comes Home Ready To Face The Broncos On Sunday
Getty Images
The Shanahan name will always be legendary and be revered here throughout Broncos Country, except for this weekend where there will be a major conflict of interests.
There will be a several hour window where both the Shanahans, Kyle the current head coach of the San Francisco 49'ers and his dad, legendary head coach who led the Broncos to back to back Super Bowl titles in the 90's Mike will be on the other end of the sideline for their Sunday Night matchup against the Broncos.
No, Mike won't be actually on the sidelines but will be watching from a suite and pulling for his son who spent much of his childhood here in Colorado while his Dad was coaching for 7 years.
How weird would it be to see your name in the Broncos Ring of Fame and then look down and see your son on the opposite sideline coaching for the other team?
That's exactly what's going to be happening for the Shanahans this weekend in what is sure to be a great matchup on Sunday Night Football.
Papa Mike who has been to both of the Niners games this year in support of his son was asked whether he was scouting the Broncos too and working on getting Kyle some tips, he had this to say to 9 News--
"Oh, I haven't studied the Broncos at all,'' Shanahan said with his typical artful dodge. "I'm just starting to look at them right now."
There aren't too many times where the Broncos and a member of the Shanahan family aren't going to be pulling for each other, but this is going to be one of those weeks that, at least for a few hours, will totally be the case.
Even though Broncos Country and Mike Shanahan won't be on the same page this weekend, we will never forget and stop appreciating the man for everything he brought to Broncos Country.
YouTube/Denver Broncos
The Good, The Great, The Ugly -The 17 Head Coaches of the Denver Broncos Prior to Nathaniel Hackett
Nathaniel Hackett became the Head Coach of the Denver Broncos in January of 2022. Who else has coached the team?
Scroll Through a Pictorial History of the Denver Broncos
The Denver Broncos have one of the most successful franchises in the NFL. Eight Super Bowl appearances, 15 division titles, 21 playoff appearances, and three championships. But, as every fan knows, the road is never easy and with every victory, there are plenty of heartaches and disappointments. All the memorable moments and players are too many to mention here, but, take a look back at some of the highlights and heartaches of the past 60+ years.