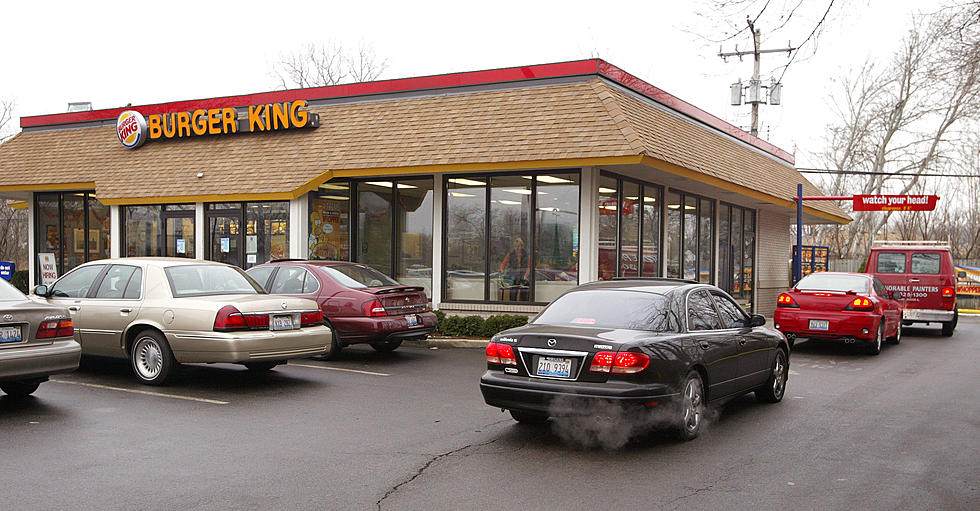 NoCo Burger King's To Cut Menu Items To Speed Up Drive-Thru Lines
Photo by Tim Boyle/Getty Images
We've all sat in drive-thru lines wondering just what the guy in front of us ordered that is taking 10 minutes to make, right? Burger King plans on cutting certain menu items to speed their drive-thru lines up.
According to an article from CNBC, the fast-food giant, Burger King, knows its wait times have increased as the demand for their drive-thrus has risen to record numbers over the past year. That's due in part to the lobby's being closed for many months, and people just want to grab their food and go home and not worry about having to deal with people. I'm certainly guilty of that.
One of their answers to cutting their wait times down? Giving people less to choose from and their cooks less to have to make in the kitchen.
While the number of choices could certainly slow down the line if someone orders a menu item that they don't have ready, or in a warmer, they should absolutely take into consideration just how short-staffed businesses are at the moment. People just aren't looking to get back into these lower-income jobs just yet. Frankly, they may never want to go back to those.
The problem there is that with less staff, it's almost impossible to keep up with the demand of any busy restaurant or business. I've become pretty good at reminding myself how short-staffed folks are these days and things are just going to take a little bit longer. Most, are doing their best to take care of their customers as fast and efficiently as possible.
If Northern Colorado Burger King's, as well as others around the state and country, look to remove items from the menus, what should go?
BK's staples are the Whooper, the Original Chicken Sandwich, Chicken Fries, and regular burgers. They used to have a bomb grilled chicken salad that went away a few years ago and that was probably due to something similar to this. Fewer choices equal less thinking for the customer and also for the crew putting your snacks together. Maybe the "Bob's at BK" are onto something here.
No word on when these changes will take effect, but much like when Taco Bell took away the beloved Tostadas and Mexican Pizzas, we'll know, and we'll be sad.
Up Next: Colorado's Most Expensive House Ever Just Sold for an Outrageous Price
This little number comes in at just over 22,000 square feet. It features 11 bedrooms, 17 bathrooms, and 40 foot ceilings. Make your way to Aspen, Colorado, for the real estate adventure of a lifetime.
Multi-Million Dollar Colorado Mansion Has Continental Divide View