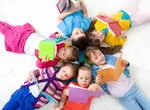 Get Reading This Month with Human Bean
YanLev
To celebrate May "get caught reading" month, Human Bean is offering rewards for all the reading you will do this month.
Reading is a habit that once engraved will be a life long habit that will be your child will love to do and one of the best things they can ever do on a regular basis. Reading not only will grow their knowledge and skills to sail through school, career, and life but it keeps the brain active and healthy. May is national Get Caught Reading month that is a very fun concept to get your child to start reading on a daily basis. Soon, your child will fall in love with books and reading!
Teaming up with your child's school reading program, the Human Bean, is offering their encouragement and support to help your child get caught reading. Most schools have a reading log that the students follow, but just in case any of those programs are over, the Human Bean has a log that everyone can use to participate in their reading program. The prizes for getting caught reading in the month of may? A book bag filled with Human Bean and Dr. Seuss prizes! Complete the log and turn it in for a raffle ticket at your local Human Bean before the month is over!