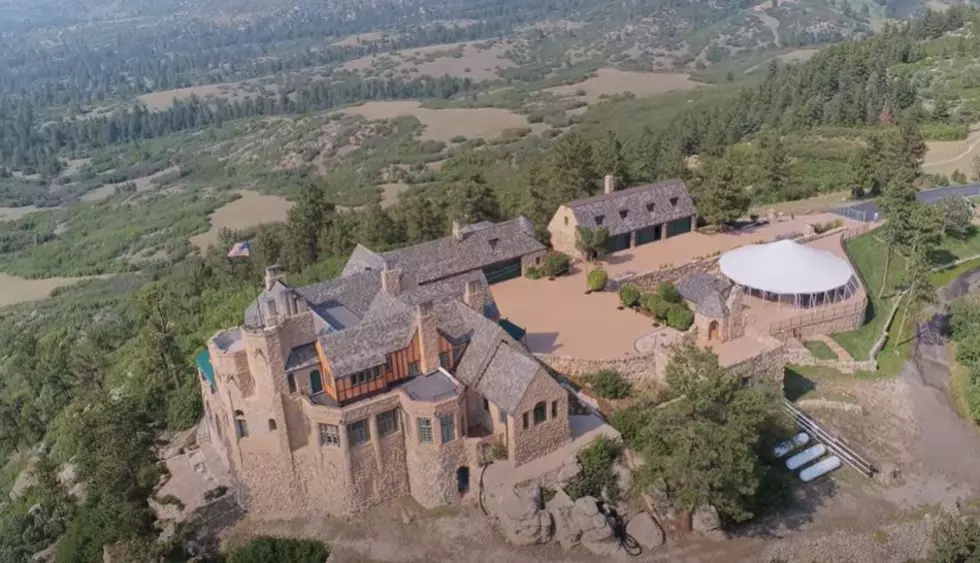 Get a Rare Look Inside Colorado's Cherokee Ranch and Castle
Aaron Schug/YouTube
Many Coloradans might not know that a rare example of a 15th-century castle sits high atop a hill in Sedalia, overlooking the entire Front Range.
The medieval-inspired structure was built with locally sourced rhyolite and petrified wood. Cornish stonemasons were brought in to help with the construction project, which took two and a half years to complete. The finished product resulted in a detailed exterior with gargoyles, bold wooden doors, stunning stonework, arches, plus amazing towers and turrets. The interior boasts elegant light fixtures, eight intricate fireplaces, and luxurious living quarters that are still present to this day. The architecture combines aspects of the Western United States as well as 1450s Scottish-style castles.
Colorado's prominent Johnson family was the first to reside in the castle. They lived in the Douglas County dwelling from 1927-1939.
Once the last of the Johnson family members moved out of the castle, it was put up for sale and bought by a woman named Tweet Kimball in 1954. Kimball was a Tennessee heiress looking for somewhere to raise her children, following a divorce from her husband. He told her he'd buy her anything she wanted west of the Mississippi, and when she found the castle, she felt it was meant to be. Additionally, Kimball purchased the adjacent land that had been the Blunt Homestead. She renamed the entire property, Cherokee Ranch and Castle.
With a passion for history and an appreciation for animals, Kimball was able to incorporate both of these things into the massive Colorado estate. While living at Cherokee Castle, the heiress built up a collection of world-class art, antiques, and rare books. She also raised award-winning Santa Gertrudis cattle on the grounds.
Kimball began offering public tours of the 11,000-square-foot structure so that people could view the artifacts and get a glimpse of the castle's grandeur. The castle has 24 rooms as well as an expansive outdoor terrace.
RELATED: See Inside of Colorado's Dunafon Castle
Nowadays, Cherokee Creek Ranch plays hosts all kinds of public events, including concerts, weddings, corporate parties, tea times, and retreats. The castle sits on private property, with access by reservation, invitation, or appointment only. Thanks to Kimball, public tours of the Colorado castle are also offered.
The maximum capacity inside the castle is 75 guests. And who wouldn't feel like royalty celebrating a special occasion inside this exquisite estate?
Relics such as an authentic suit of armor and antique pieces of artwork line the castle's long halls. Custom tile work was used to design the lavish dining room, especially around the fireplaces. Gorgeous furnishings can be found around every corner of the castle too.
RELATED: Colorado's 'Jewel in the Rockies'
This pristine property is also used for important environmental education and scientific research.
Cherokee Ranch and Castle is located at 6113 North Daniels Park Road in Sedalia, Colorado. The property is preserved through a conservation easement and Cherokee Ranch and Castle Foundation is currently operated as a 501c3 non-profit charitable organization.
A breathtaking piece of history and architecture – this place truly is a timeless treasure in the middle of Colorado.
To get a peek at another majestic property in Colorado, take an easy hike to Dunafon Castle. Information on how to get there can be found below.
Bear Creek Trail to the Castle
Take this easy hike on the Bear Creek Trail to the Dunafon Castle.