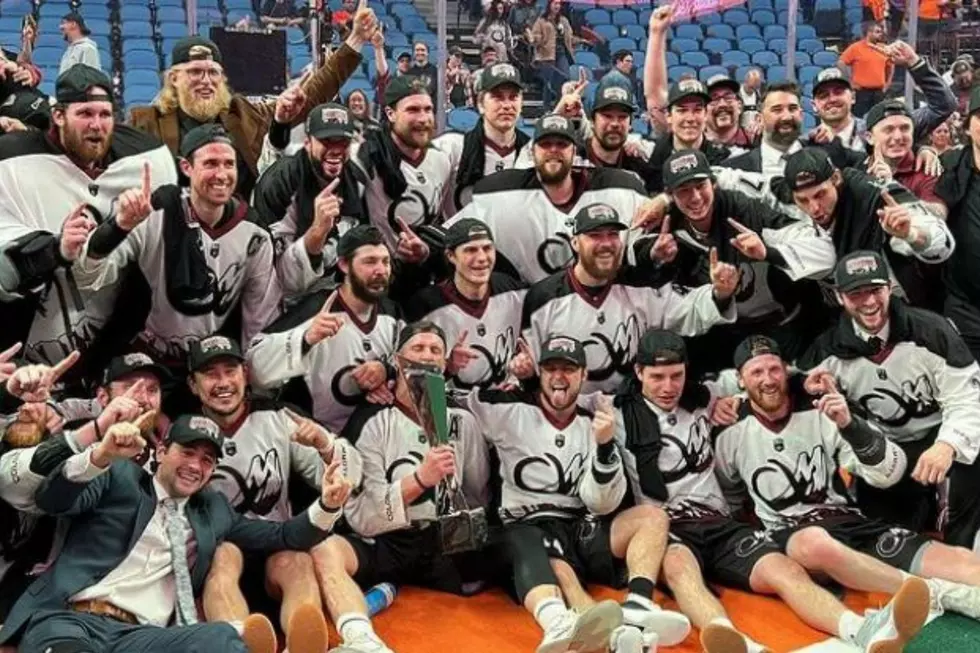 Did You Hear? Your Colorado Mammoth Won The NLL Cup On Saturday
Courtesy of the Colorado Mammoth
While the Colorado Avalanche and their current Stanley Cup run are all most sports fans are talking about, their Ball Arena family, Colorado Mammoth, won the National Lacrosse League Championship on Saturday night!
Colorado Mammoth 2022 NLL Cup Champions
The game of Lacrosse in Colorado has a lot to be excited about right now as the reigning National Lacrosse Champions now reside in Denver, Colorado, as the Colorado Mammoth are bringing the NLL Cup back to Colorado for the first time since 2006. The team debuted in Colorado back in 2002 and right out of the gate, Colorado was excited to have professional lacrosse in the (then) Pepsi Center. In fact, there were certain seasons where the Mammoth had more fans at games than the Denver Nuggets and believe it or not, the Colorado Avalanche. The loyalty of the "Loud House" over the years has paid off as the boys won their second championship on Saturday night.
The Colorado Mammoth went to a sold-out Buffalo Arena this past weekend and defeated the Buffalo Bandits 10-8 to bring home the biggest prize in Lacrosse, the National Lacrosse League Championship Cup. Ironically, it was in Buffalo that we won our first Championship back in 2006. Needless to say, the citizens of Buffalo aren't fans of the Mammoth these days.
I watched the last 90 seconds of the game in my car outside of the Chipotle in Greeley, screaming and yelling to myself like an idiot, but no regrets here because my guys did it! I've been the Public Address Announcer of the Colorado Mammoth for the last six seasons and I could not be any happier for our team. Just to be a small part of this Championship run is something I'll never forget.
Details have not been released for an official championship celebration but as soon as we get the full scoop, you'll be the first to know. Congrats again to our two-time NLL Cup Champion, Colorado Mammoth. Let's keep on rolling, baby! Also... GO AVS GO.
PHOTO FLASHBACK: Colorado Avalanche Win 2001 Stanley Cup Championship
The 2001 Stanley Cup Finals was a hard-fought series between the two top teams in the NHL. The series was extremely physical and would go 7 games - with the Avs having to win the final two games to win the title. Here is a look back at some great Colorado Avalanche history - and a closer look at that thrilling series.
The Ten Best Moments in Denver, Colorado Professional Sports History
From the Denver Broncos to the Colorado Rockies, or the Denver Nuggets to the Colorado Avalanche, these are the Best Denver Sports Memories of the last 40 or so years.