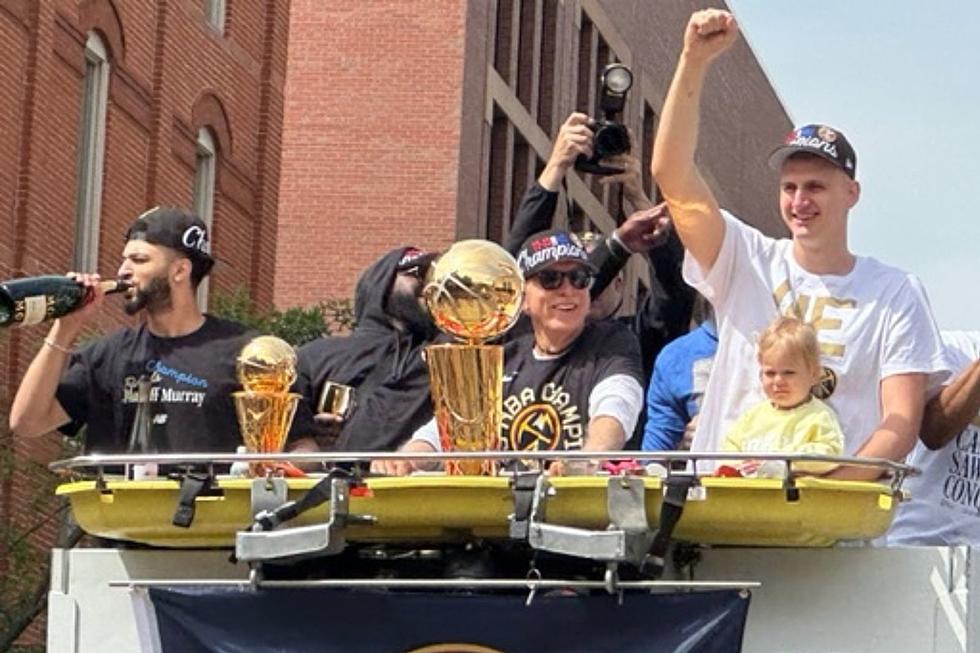 Miss the Denver Nuggets Championship Parade? Here Are Some Pix
Big Rob DL
It wasn't a dream, it really happened, and at least over half a million, maybe close to a million people saw the magic that was the Denver Nuggets Championship Parade. In case you missed it, or want to re-live it, we got you covered.
Denver Nuggets 2023 Championship Parade Pictures
It was a day that for many years, some fans in Denver weren't sure we'd ever see. An NBA Championship Parade for our beloved Denver Nuggets. Let's be honest, there were years when Nuggets Super Mascot Rocky was the best part of going down to McNichols Arena, or the (then) Pepsi Center. Nowadays though, the Nuggets are the absolute best basketball team on the planet, and they proved it this season as they won the 2023 NBA Finals by beating the Miami Heat 4 games to 1 and bringing home their very first Larry O'Brien Championship trophy.
The Nuggets first, of what we hope is many more parades, isn't one I'll ever forget. I headed down to Denver with my dad, brother, and my son to witness history, and I'll be honest, it would be hard to beat just how perfect today went. In case you missed the parade, or just want to relive the magic, let's rewind a bit, shall we?
Miss the Denver Nuggets Championship Parade? Here Are Some Pix
The 2023 NBA Championship Parade for our Denver Nuggets was absolutely spectacular. Firetrucks from all over Colorado loaded up with Nuggets players and staff and took over 17th Street in Downtown Denver. Here are some pix of the action that we caught at 17th and Wazee just outside of Union Station.
Crazy that less than one year ago, we were at this parade...
25 Awesome Colorado Avalanche Stanley Cup Parade Pictures
The 2022 Stanley Cup Champions, Colorado Avalanche, took over the streets of Downtown Denver on June 30th, 2022, to celebrate the team's third Stanley Cup Championship, and we were there for all of the action.
The Ten Best Moments in Denver, Colorado Professional Sports History
From the Denver Broncos to the Colorado Rockies, or the Denver Nuggets to the Colorado Avalanche, these are the Best Denver Sports Memories of the last 40 or so years.