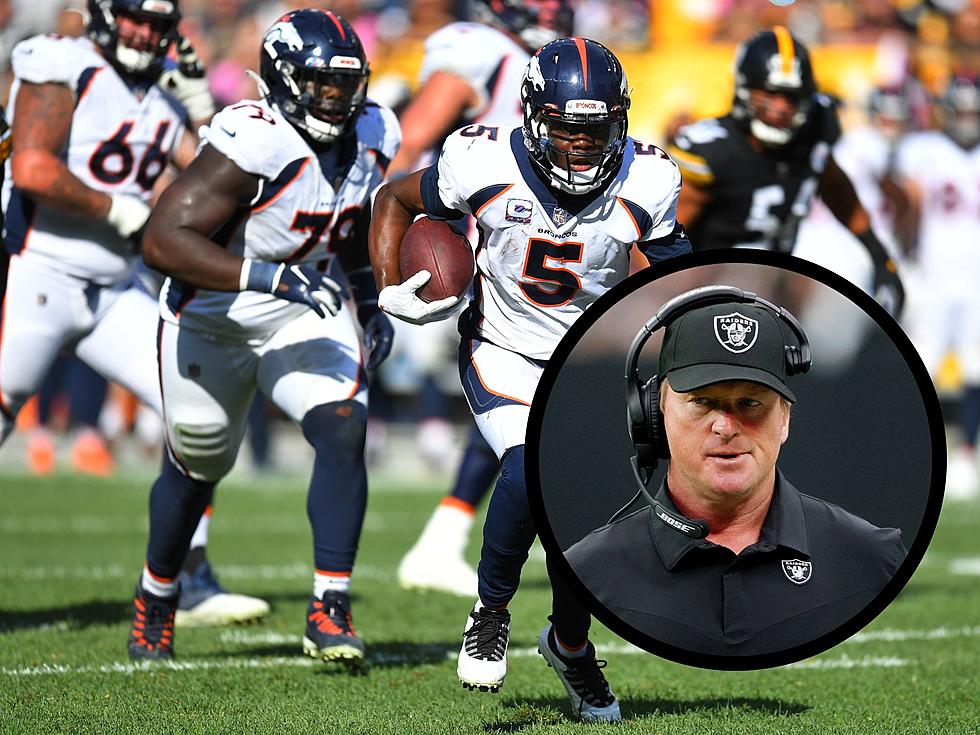 Will Jon Gruden's Resignation Affect the Raiders Versus Broncos on Sunday?
Joe Sargent, Getty Images Ethan Miller, Getty Images
The Broncos are set to play the Raiders this weekend, and for better or for worse, the Raiders aren't in the news for just their players.
Earlier this week, former Raiders head coach Jon Gruden resigned following leaked emails over the course of eight years that had homophobic, misogynistic, and offensive comments.
Now, that would normally scream a storm brewing in a program, something an opposing team could and should take advantage of. However, from some people, it sounds like it might actually do the opposite of causing a distraction. You know, the distraction Gruden thought he was causing as if that was the biggest concern about the situation.
Keyshawn Johnson, a former NFL wide receiver, spoke on ESPN about Gruden's character when he played under the former NFL coach on the Tampa Bay Buccaneers. According to a Sports Illustrated article about Johnson's comments, Johnson called Gruden a "fraud" and never really bought into Gruden as a coach.
Now, if Johnson's feelings and remarks are a widespread opinion on the Raiders, then the loss of Gruden may not do the damage it would if it was another coach. However, in the NFL, a head coach loss doesn't automatically doom a team anyways. As long as they have a strong offensive coordinator to begin with, not much has to change in terms of gameplay and strategy.
With all that being said, with or without Gruden, I think the Broncos would have beaten them even if the events of this week had not transpired.
The Broncos have been strong this season, and even with two losses the last two weeks, those have come against strong competition.
The Raiders have looked as put together as they've been in years, but I still think Denver is more organized and composed, and I think they will be looking at their fourth win of the season this weekend against the Raiders.
Denver Broncos Forgotten Players