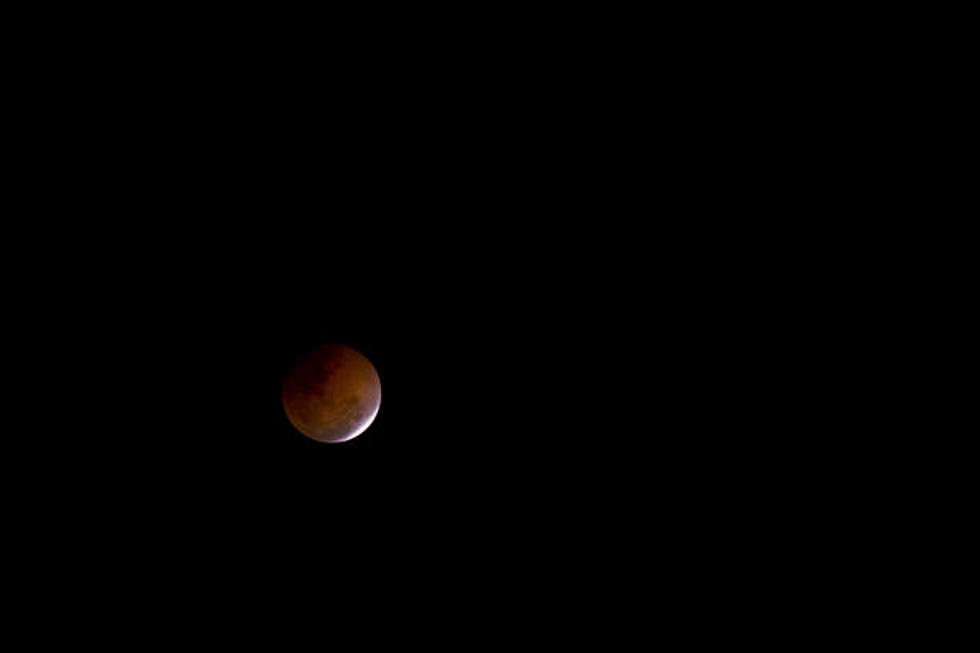 Where + When To See Once In A Lifetime Lunar Eclipse In Colorado
Getty Images
If you happen to be awake late Thursday night (Nov. 18) or during the early hours of Friday morning (Nov. 19), you'll want to direct your attention to the sky.
The longest partial lunar eclipse in nearly six centuries is about to grace us and the night sky above.
According to John Keller, the University of Colorado's (CU Boulder) Director of the Fiske Planetarium, the eclipse will begin around 11 p.m. tonight and will peak at around 2 a.m. Friday morning (Nov. 19).
What Is A Lunar Eclipse?
A lunar eclipse occurs when the moon passes behind Earth's shadow; in the case of the lunar eclipse many will see between tonight and tomorrow morning, the Moon will pass into the shadow of the Earth, creating a partial lunar eclipse so deep that many professionals are considering this eclipse almost total.
In a total lunar eclipse, the entire Moon falls within the darkest part of Earth's shadow, called the umbra. In this particular eclipse, up to 99.1% of the Moon's disk will be within Earth's umbra, according to NASA. 
Where + When To See The Eclipse
CU Boulder's John Keller says that at around 11 p.m. tonight, this partial lunar eclipse will begin to turn the moon from its normal bright white color to a blood-red as it passes into the Earth's shadow; this occurs whenever there's a lunar eclipse - sunlight refracts through the Earth's atmosphere and then projects onto the moon giving it a more reddish, or bloody, looking color.
"The partial eclipse event will unfold mostly during the wee hours of Friday, with the maximum eclipse occurring around 2 a.m., before completely wrapping up just after 5 a.m.", Keller said.
if you're looking up at the sky, you probably won't notice a full shadow, which is when you'll begin to notice the Earth's shadow merging into the moon until about 12:18 a.m. Friday morning (Nov. 19).
At that time until about 2 a.m., those looking up at the night sky should be able to see much more of the Earth's shadow coming across the moon; maximum eclipse of the moon, at this rate, is expected to occur at around 2:02 a.m. Friday morning.
As for what follows? We should reportedly begin to see more and more sunlight on the moon up until 3:47 a.m., which is around the time when the eclipse is expected to end here in Colorado
Although there will still be a partial shadow on the moon up until about 5 a.m. Friday morning Keller says the bulk of when we'll notice the red hue on the moon is between 12:18 a.m. and 3:47 a.m. Friday.
What Makes This Lunar Eclipse So Special?
According to NASA, this will be the longest partial lunar eclipse in a millennium, clocking in at 3 hours, 28 minutes, and 23 seconds.
The last time there was a partial lunar eclipse longer than the one we'll see tonight was on February 18, 1440; that eclipse lasted a total of 3 hours, 28 minutes, 46 seconds. 
This lunar eclipse will remain the longest partial lunar eclipse for over six centuries - 648 years, to be exact - until February 8, 2669, to which then the eclipse is expected to clock in at 3 hours, 30 minutes, and 2 seconds. 
Grab your binoculars and your camera, get outside, and share your photos of this once-in-a-lifetime eclipse with us on our New Country 99.1 app.
Happy sky-gazing!
20 Photos of Colorado From Space
8 Colorado Legends That Every Coloradan Should Know