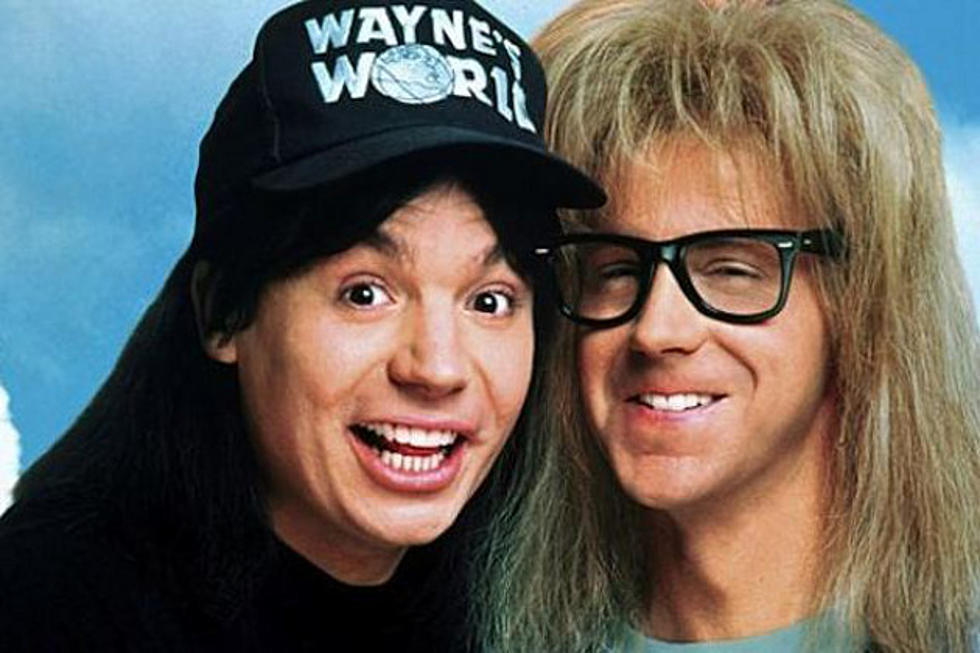 See The Cast of 'Wayne's World' Then And Now
Paramount
Let's check in on how Mike Myers, Dana Carvey and the rest the stars of the comedy classic are aging.
Then: Mike Myers played the title character and created 'Wayne's World' and all of its various catchphrases during his time on 'Saturday Night Live.'
Now: While Myers seems committed to another 'Austin Powers' outing, there doesn't appear to be any plans to break the fourth wall for a third 'Wayne's World.'

Then: Dana Carvey played the cheerfully dimwitted Garth Algar character he originated on 'Saturday Night Live.' 

Now: The ace-impersonator and father of two appears in the occasional Funny or Die video and produced and starred in a sketch comedy pilot in 2010. Rumor had it that Carvey was mad at Myers for basing his Dr. Evil character on his Lorne Michaels' impression, but that appears to be water under the bridge.
Then: Famously handsome man Rob Lowe played villain Benjamin Kane in 'Wayne's World.' It was one of his first purely comedic roles following a decade spent in Brat Pack fare like 'St. Elmo's Fire' and his own personal sex tapes.
Now: TV has been good to Rob with stints on 'The West Wing,' 'Parks & Recreation' and 'Californication.' He worked with Myers again in the 'Austin Powers' movies.
Then: That was Tia Carrere as Cassandra, Wayne's crush and hard rocking front woman of Crucial Taunt. You might also remember her from 'True Lies,' 'Jury Duty' and every teenage boy's fantasy circa 1993.
Now: Carrere has gone the reality route, with memorable appearances on 'Celebrity Apprentice' and 'Dancing with the Stars.' She's also still looking schwing at 46.
Then: Brian Doyle-Murray's clueless arcade owner Noah Vanderhoff was the butt of many a joke in 'Wayne's World.'
Now: While he'll never be as famous as his little brother Bill, Doyle-Murray sure is prolific, recently appearing on the sitcoms 'Raising Hope', 'The Middle' and 'Sullivan and Son.'
Then: Lara Flynn Boyle was Wayne's psycho ex Stacy, who's as clumsy as she is crazy.
Now: Flynn Boyle's last credit was as the star of a movie called 'Hansel & Gretel Get Baked.' We're now kicking ourselves for never knowing that film existed.
Then: Ed O'Neill brought his deranged everyman charm to shell-shocked Vietnam vet and doughnut shop manager Glen.
Now: If Al Bundy didn't already make O'Neill a TV Hall of Famer, his role as Jay Pritchett on 'Modern Family' has assured his inclusion among the all-time greats of the small screen.
Then: In a classic cameo, Robert Patrick reprised his bad cop T-1000 role from 'Terminator 2.'
Now: The veteran character actor recently played a cop of the non-shape shifting variety in 'Gangster Squad.'
Then: In 'Wayne's World', the sum of all Garth's fantasies was embodied by Donna Dixon. The former Miss Virginia had first gained notice opposite Tom Hanks on the early '80s sitcom 'Bosom Buddies.'
Now: Dixon retired from acting soon after 'Wayne's World.' She has three daughters with husband Dan Aykroyd.
Then: Wayne and Garth were never at their least worthy as when they met shock rocker and Milwaukee trivia enthusiast Alice Cooper.
Now: These days Cooper is probably more well known for his golf game than for his gory stage shows. What a long, strange trip it's been.