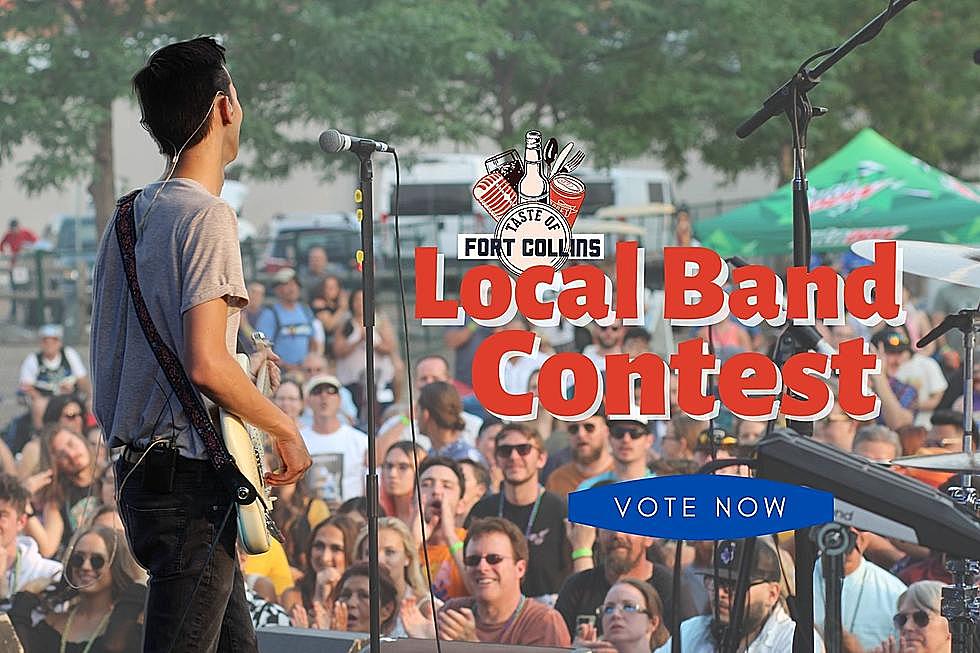 VOTE: Taste of Fort Collins 2023 Local Band Contest
Marissa Link // TSM
The biggest party of the summer is returning to Washington Park!
We're talking about Townsquare Media's Taste of Fort Collins, which will host The All-American Rejects on Saturday, June 10, and Lil Jon on Sunday, June 11 — but which local acts will join them on stage?
This is where you come in. We asked you to nominate Northern Colorado talent to play at the event, and now, it's time to tell us who you want to see at Taste of Fort Collins.
Learn more about the nominees below, and make sure to cast your vote (you can vote once an hour) at the end of this article.
Disclaimer: Some of the artists below are known for adult content. Please be advised on potential strong language and adult topics. 
Townsquare Media's Taste of Fort Collins Local Band Contest Nominees
Animal Future | Latin Grunge
Animal Future is a genre-breaking band that plays a fusion of alternative, Latin, punk, grunge, pop, and folk music.
Audacious Claims | Power Funk
Audacious Claims is a Fort Collins-based band who describes themselves as a "power funk rock band extraordinaire."
Autumnal | Indie Pop
Autumnal began as an indie-pop duo made up of two best friends. Now, the band has gained members and released their second single.
Ballpark! | Rock
Ballpark! is a rock band with the unique ability to perform difficult songs with a fun stage presence and high energy.
Bourbon Brass Band | Second Line
Bourbon Brass Band is a Fort Collins musical ensemble of horns and drums that plays jazz in traditional New Orleans style.
A Brother's Fountain | Folk
A Brother's Fountain plays "Colorado campfire folk" inspired by the outdoors, friendship, adventure, and the great mysteries of life.
Cell 23 | Alternative Metal
Cell 23 is a five-piece band from Colorado Springs that plays metal, hard rock, punk, emo, and more.
Chin Music | Rock & Electronica
Chin Music uses electronic and analog instruments to create a distinctive blend of electronica and rock music.
Clementine | Alternative Rock
Clementine uses bright guitar riffs and heavy-hitting drums to bring youthful energy, raw attitudes, and excellent musicianship to the stage.
Defeats the Porpoise | Proto Punk
Defeats the Porpoise is a Greeley-based band that has found their place in the Northern Colorado surf rock scene.
Elektric Animals | Indie Rock
Elektric Animals is an indie-rock band whose music has been featured on TV shows like The Good Doctor, Shameless, and more.
Emma Marie Band | Pop
Emma Marie has graced many Colorado stages and appeared on the hit show Little Big Shots. Her style ranges from acoustic to blues to pop to ballad.
Foco Flava | Dance
Foco Flava is a dance group whose mission is to preserve, cultivate, and grow the hip-hop culture in Fort Collins.
 Gamma Paw | Art Punk
Gamma Paw takes inspiration from the '70s, '80s, and '90s to create a timeless sound and stage experience.
Grim Kiefer | Hip-Hop
Grim Kiefer has a unique sound and an experienced resume, including a sold-out Fort Collins show, that takes his music to the next level.
Heart Medicine | Reggae
Heart Medicine is a soulful, woman-led reggae pop band whose music focuses on positivity, celebrating life, and staying true to yourself.
hellocentral | Modern Alternative
hellocentral has been selling out shows in Denver with their blend of pop-punk and alternative music.
Holdfast. | Alternative Rock
Holdfast. formed in Windsor in 2011 and has since gone on to capture the hearts and minds of fans across the U.S.
Hygeia | Progressive Hard Rock
Hygeia is a progressive hard rock band that brings a powerful presence to the stage with their genre-bending sound.
JØHN TYLER | Alternative Emo
JØHN TYLER creates alternative emo music that encapsulates the pain of struggling with sobriety, depression, and toxic relationships.
Jolo | Alternative
Jolo is a one-person band with the energy of a four-person band who produces and writes unique alternative music.
Luna Shade | Reggae
Luna Shade pulls inspiration from Jamaican roots, UK dub, and American reggae rock to create a unique and fresh sound.
Mad Dog Friedman | Blues
Mad Dog Friedman is a high-energy, acoustic blues jam band that is working to change the face of the "Colorado sound."
Midnight for Now | Grunge
Midnight for Now creates grunge music that features crunchy rhythms, moody guitar riffs, and cathartic vocals.
modrn | Pop
modrn uses piano, percussion, bass, guitar, and heavy vocals to create a sound that depicts their wide range of influences.
 Naheim Colon-Sanders | Pop & Worldwide
Naheim Colon-Sanders creates an amalgamation of pop, worldwide, and dance music that reflects his love of people, God, the world, and himself.
One Flew West | Pop Rock
One Flew West formed in 2014 and has gone on to grab the attention of audiences across the country with their straightforward songwriting.
Orchard Creek Band | Bluegrass
Orchard Creek Band creates heartfelt and relatable bluegrass tunes and brings comfortable, personable, and humorous energies to the stage.
Phat Jayy | Hip-Hop
Born and raised in Colorado, Phat Jayy is a Fort Collins artist who has been making music for two years now.
Sagan Petr Smith | Hip-Hop
Sagan Petr Smith is a 20-year-old visionary artist who produces hip-hop, jazz, R&B, electronica, and house music.
Sauce.K | Hip-Hop
Sauce.K is a Greeley-based hip-hop artist whose single "You Want" landed on the Netherlands Hot 100 on Spotify.
Taylor Shae | Alternative Country
Taylor Shae uses her velvety-toned, bright voice to bring stories of outlaws and dreamers to life in her songs.
Thin Air Crew | Hip-Hop
Thin Air Crew creates hip-hop music filled with unbridled energy and emotion that offers truthful insight into what it's like to live in the moment.
Thousand Frames | Hard Rock
Thousand Frames are Taste of Fort Collins veterans who are hoping to bring their new singles and high-energy performances to this year's stage.
ThreeShots | Blues
ThreeShots is a five-piece blues band that offers an authentic, all-American, roadhouse blues-rock sound.
The Timberline | Alternative & Pop Punk
The Timberline is a pop punk-influenced rock band that inspires audiences through catchy melodic riffs and soulful lyrics.
Titonic | Funk
Led by Monique Ford, Titonic brings powerhouse vocals, a tight rhythm section, and an unforgettable horn section to the stage.
Unauthorized Absence | Cover Band
Unauthorized Absence has been entertaining the Front Range for the past eight years with a wide variety of classic rock covers.
Who do YOU want to see at Taste of Fort Collins? Let us know in the poll below.
Vote for your favorite artist up to once per hour on your Townsquare Media station app. Voting ends at 5 p.m. on Friday, March 31.
Discounted $22 weekend passes for Taste of Fort Collins are on sale now. Tap the button below to get tickets on your favorite Townsquare Media station app while supplies last.
Taste of Fort Collins is produced by Townsquare Media with the support of presenting sponsor FNBO.
Thank you to all of our valued partners: Breeze Thru Car Wash, CRISP & GREEN, Coppermuse, Eagle Rock Distributing Co., Fort Collins Connexion, Fort Collins Dodge, Chrysler, Jeep & Ram, Kiwanis International, Glacier Creek Dental, Lion Home Service, New Belgium Brewing, Odell Brewing, The OBC Wine Project, Pedersen Toyota, Pepsi, School of Rock Fort Collins, Waste Management and The Women's Clinic of Northern Colorado.
Taste of Fort Collins 2022 in Photos
Taste of Fort Collins 2021 in Photos
Taste of Fort Collins 2021 was a weekend to remember - can someone say it got "Hot in Here"? (If you missed it, Nelly was a fantastic headline for Sunday). Let's take a look back through the memories of one of the biggest events of the summer, shall we?