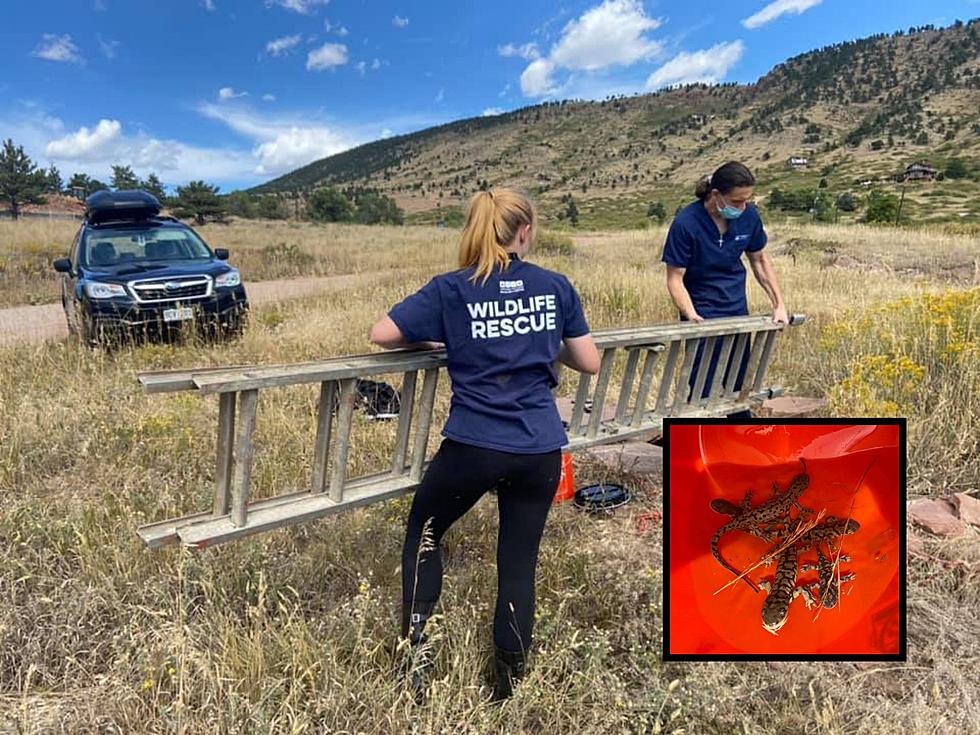 Northern Colorado Wildlife Center Rescues 5 Salamanders From Well
Northern Colorado Wildlife Center, FB
Get ready for a wholesome animal rescue story with a happy ending.
The Northern Colorado Wildlife Center was called out to Lyons for a confined space rescue. According to the wildlife center, some construction workers noticed five tiger salamanders that were stuck in a 12-foot deep well.
With assistance from the Greenwood Wildlife Rehabilitation Center, the crews were able to successfully pull all five salamanders from the well. Four were released immediately, but one, unfortunately, had to be taken into the wildlife center to be treated for a back injury. It's suspected the fifth salamander hurt its back during the fall into the well.
In the center's 2020 annual report, they assisted 231 total wild animals. This includes only two salamanders, so they have already over doubled their number for that particular amphibian.
What is the Northern Colorado Wildlife Center and what do they do?
The Northern Colorado Wildlife Center focuses heavily on wildlife rehabilitation and education. They have also stepped up and offered assistance in light of out-of-area disasters, like the Australian wildfires in 2020. They donated time and resources to help with rehabilitation and rescue in Australia.
For local assistance with wildfires, they helped during the peak of 2020 fires in Colorado with Cameron Peak, East Troublesome, and Lewstone when they were all burning rapidly. They were able to aid in the search and rescue of domestic and wild animals that were displaced by the fires.
Anyone who is interested in donating to the wildlife center can visit here to see their options for ways to give.
10 Wild Animal Encounters in Northern Colorado in 2020
Photos: 10 Reminders to 'Leave No Trace' in Colorado