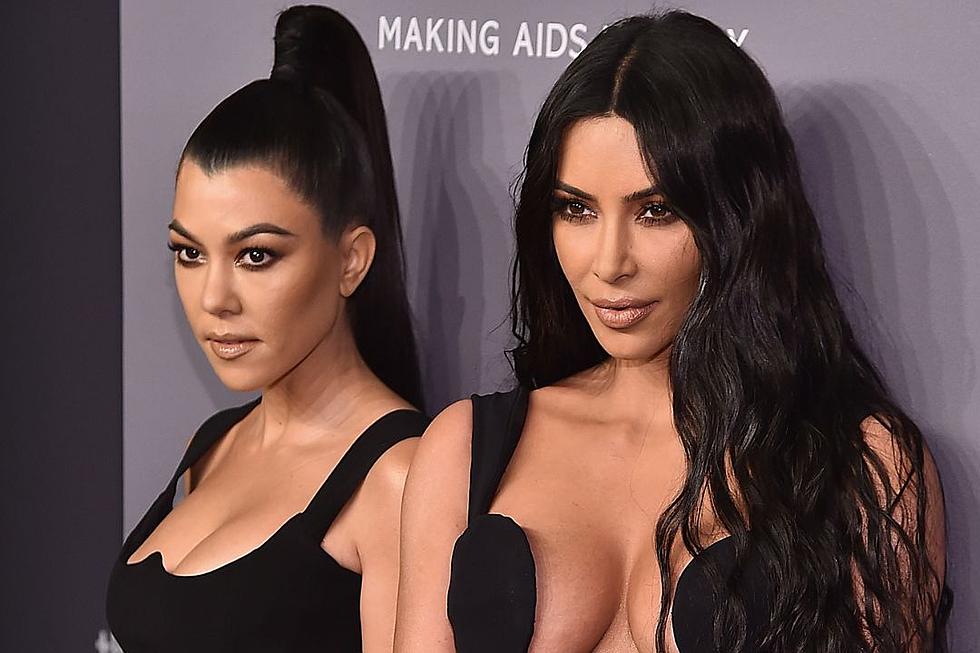 Why Is Kourtney Kardashian Mad at Kim About Her Wedding?
Theo Wargo, Getty Images
Kourtney Kardashian is angry with sister Kim about how the latter acted at Kourtney's May 2022 wedding to Travis Barker.
The Season 3 trailer for The Kardashians shows the two sisters at odds with regard to Kourtney's Italian wedding, which Kim supposedly used as a networking opportunity for her later collaboration with Dolce & Gabbana, which debuted at Milan Fashion Week just four months after the wedding.
The Italian designers, Domenico Dolce and Stefano Gabbana, designed Kourtney's bridal gown, and she and the Blink-182 drummer also wed at their personal L'Olivetta estate in Portofino.

READ MORE: Are the Kardashians Not Invited to the 2023 Met Gala?
"My sister used my wedding as a business opportunity," Kourtney claims in the trailer, while Khloe tells Kim that Kourtney is "livid" with her.
Sister Kendall Jenner chimes in, saying that Kourtney felt as though "her wedding vibes were, like, stripped from her."
Watch The Kardashians Season 3 Trailer Below:
During a confessional, Kim admits she doesn't understand why Kourtney is upset with her.
"I'm really confused at how this narrative came into her head. Like, I couldn't have been more mindful. I said, 'Don't do anything that Kourtney wore to her wedding,'" she explains.
Kourtney shares more insight, insinuating Kim's "Ciao, Kim" collaboration upstaged her wedding and claiming that it was not a "misunderstanding," but rather who Kim is "to the core."
Do Kourtney and Kim Kardashian Get Along?
Kourtney and Kim have always had a somewhat contemptuous relationship. The sisters' on-again, off-again fighting and feuding dates back to their hit E! reality TV show Keeping Up With the Kardashians, which aired from 2007 to 2021.
According to BuzzFeed, in 2017 Kourtney pulled away from the show in an effort to spend more time with her kids. However, her disinterest in filming sparked some tension between her and Kim.
In Season 18, Episode 1, Kim upset Kourtney when she dismissed her older sister's filming anxiety and desire to spend more time with her family, as well as confronted Kourtney for her "negativity" and "bad vibes."
"You have this narrative in your mind. I will literally f--k you up if you mention it again. Literally, shut the f--k up! Change the narrative in your mind! I work my f---ing ass off," Kourtney snapped back.

The argument escalated and the sisters came to physical blows.
In 2021, Kourtney took a swipe at her sister on Instagram. She made fun of Kim's infamous lost diamond earrings by posting a Peppa Pig meme mocking the time Kim lost one of her prized $75,000 earrings while swimming in the ocean in Bora Bora.
When the episode "The Family Vacation" aired in 2011, Kourtney showed no sympathy, telling her sobbing sister, "Kim, there's people that are dying."
The drama continued when Season 2 of The Kardashians aired on Hulu.
In the season finale, "Here's to Paris," Kim made a snarky remark about Kourtney when she was advised to walk the runway for Balenciaga at Paris Fashion Week comfortably, as if she were "at home."
"Home with Kendall. Not at home with, like, Kourtney," Kim joked.

Celebrity Family Feuds