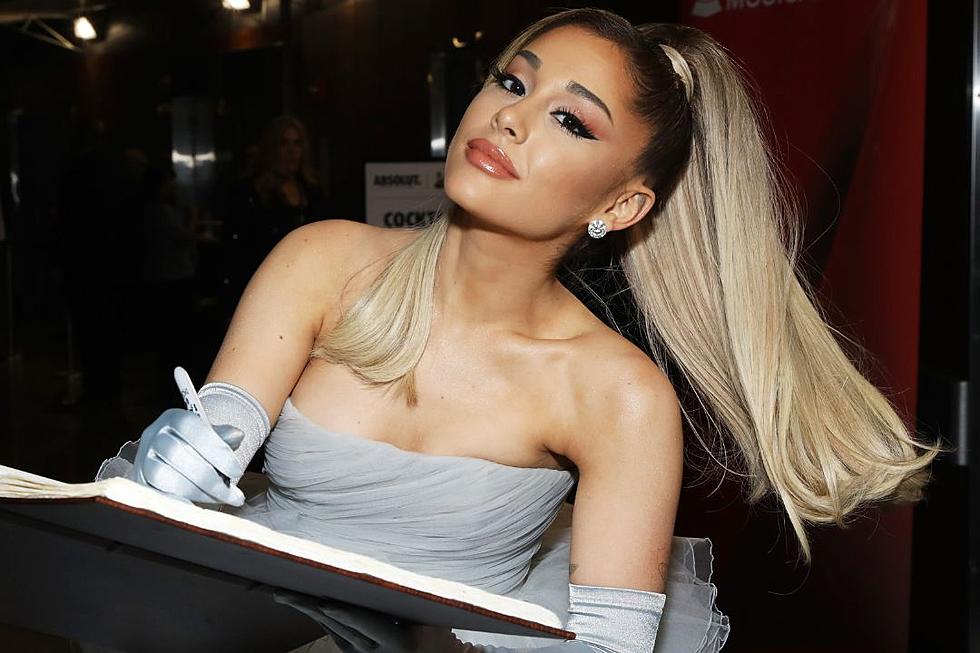 Ariana Grande Details 'Life-Changing' 'Wicked' Film Experience
Robin Marchant, Getty Images
Ariana Grande has been MIA from the music scene for a hot minute thanks to the filming of the upcoming movie musical adaptation of the iconic stage musical, Wicked, in which she plays Glinda.
On Monday (April 3), the "Positions" singer gave an update via Instagram on the film's status amid her continued absence from music since her 2020 album.
"Halfway. Savoring every millisecond left with my Galinda (although she'll be with me irrevocably, forever). She shows me so many new things every day," Grande shared.
She called the filming experience "life-changing."
"To be feeling, learning, and growing so much at such a disarming speed… to feel so much love around me, to begin each day before the sun is up and to end after it sets… to hold my brilliant twin flame / sister Cynthia's beautiful, green hands every day… to work in the safest, most beautiful and loving, biggest-yet-most-intimate/tiny-feeling spaces…" she continued.
She also called director Jon M. Chu her "other Ozian best friend ever" and said he is "thoughtful, brilliant, compassionate, and warm."
Plus, of her experience bringing Glinda to life on the big screen, she said that the film has been "transforming and healing parts of me that I never knew needed it. Or maybe did."
READ MORE: Ariana Grande Claps Back at Claim She's 'Not a Singer Anymore'
"Forgive me for this most Cancerian, rambly post. Words don't suffice, but I suppose I just wanted to (attempt to) share a little. I don't want it to end. So while I am still here, present, now, I just wanted to….exclaim my tremendous gratitution ! and allow my heart to overflow," she went on, noting that her heart will be "stuck here [in Oz] forever."
Several celebrities commented in support of Grande.
"We are ready," Broadway star and pop singer Ben Platt wrote.
Gigi Hadid said, "Feeeelin this and can't wait to see u shine," while Katy Perry added three black heart emojis.
"Love love love this and love you," Brie Larson added.
Grande was cast as Glinda in November 2021, alongside Cynthia Erivo as Elphaba, the notorious green "Wicked Witch of the West" from The Wizard of Oz.
Kristin Chenoweth famously portrayed Glinda in the original Broadway cast, with Idina Menzel originating the role of Elphaba.
Per Glamour, Chenoweth told Andy Cohen of Grande, "She's gonna put her own stamp on it…I'm so proud of her. I wanted her to do her Glinda. And that's what she's doing."
The two stars are longtime friends and actually met while Chenoweth was performing as Glinda during a Wicked show that Grande attended as a child.
"She was maybe eight, and her mom and grandma brought her back, and she sang a little bit of 'Popular,' and I thought, Well, you're pretty good. And we've stayed close, and obviously, I think she's one of the best singers on the planet," Chenoweth revealed.
Barrier-Breaking Women in Music