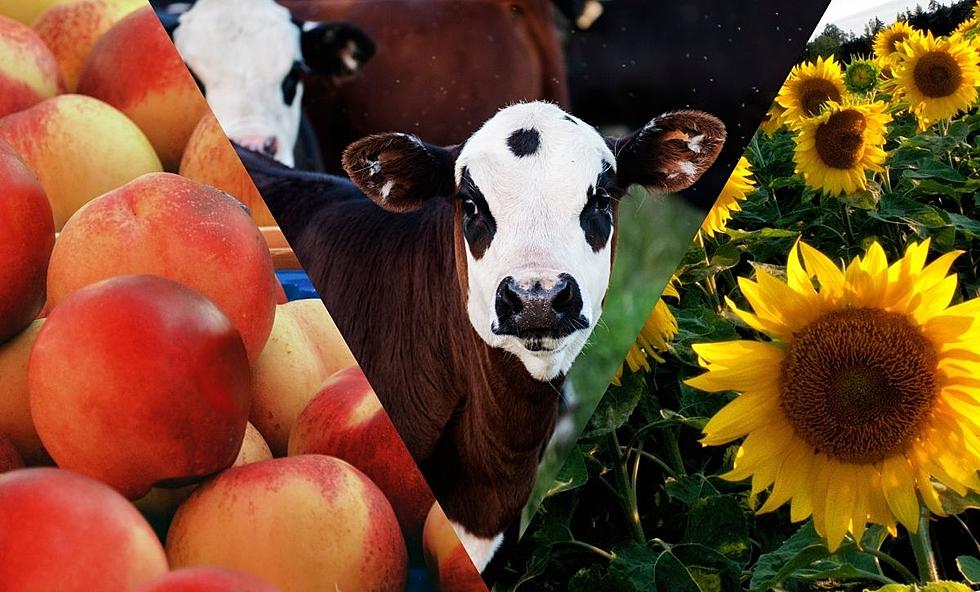 Amazing Colorado Farming Facts You Should Know About
Canva
Agriculture is one of the biggest elements of Colorado's economy. Not only does agriculture's economic impact affect everyone in the state, but there are also some pretty tasty foods that come from Colorado, too.
From Colorado beef to the sweet Palisade peaches from the western slopes, there is something for everyone from a farm in Colorado. These are just a few facts about the farming industry in the state.
Colorado Farms
The nearly 34,000 farms and ranches in Colorado make up nearly half the state's land area at 31.7 million acres. When it comes to agribusiness, Colorado employs more than 170,000 employees and contributes more than $40 billion to Colorado's economy annually.
Cattle
Cattle and calves make up the biggest agricultural commodity in the state with 2.8 million heads of cattle in Colorado.
Sunflower Production
Every year in the late summer, you begin to see many photos of the sunflower fields of Colorado on social media outlets. These massive sunflower fields in the state mean a lot of sunflower seeds. Colorado's sunflower fields rank fourth in production in the nation.
Palisade Peaches
These sweet, uniquely-flavored peaches are known across the world and grown on the western slopes of Colorado. The Palisade peach is one of the leading fruit crops in Colorado. The sweetness from these peaches is credited to the warm days and cool nights we experience in our state. In 2016, 27.5 million pounds of peaches were grown in Colorado.
Potatoes
When it comes to potatoes, you might think of Idaho, but there is a giant industry for spuds in southern Colorado's San Luis Valley. There are approximately 50,000 acres dedicated to potato production. The San Luis Valley is also the largest and highest commercial agricultural valley in the world with elevations ranging from 7,400 to 8,000 feet above sea level.
Rocky Ford Canteloupe
Cantaloupes, known in Colorado as Rocky Fords, have been grown in the Arkansas Valley since 1887.
If you would like to learn more fun facts about Colorado's agricultural industry, you can see the full list from Colorado Proud HERE.
Source: Colorado Proud
TripAdvisor's Top 10 Rated Restaurants In Greeley
TripAdvisor's Top 10 Rated Restaurants In Loveland