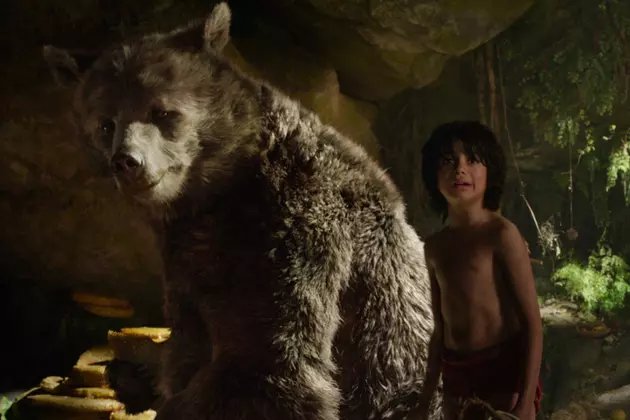 Weekend Box Office Report: 'The Jungle Book' Roars Into First Place
Disney
The Jungle Book was destined to take the number one spot at the box office this weekend. However, the early estimates were off by, oh, $20 million or so. Jon Favreau's reimagining of this beloved story exceeded all financial expectations. Buoyed by strong reviews and positive word of mouth, the film had the second biggest April opening of all time, topped only by last year's Furious 7.
Film
Weekend
Per Screen
1
The Jungle Book
$103,567,000
$25,712
$103,567,000
2
Barbershop: The Next Cut
$20,210,000
$7,595
$20,210,000
3
The Boss
$10,170,000 (-56.9)
$2,910
$40,351,000
4
Batman v Superman: Dawn of Justice
$9,010,000 (-61.4)
$2,571
$311,311,000
5
Zootopia
$8,235,000 (-42.6)

$2,566
$307,478,000
6
Criminal
$5,850,000
$2,180
$5,850,000
7
My Big Fat Greek Wedding 2
$3,160,000 (-49.7)
$1,419
$52,095,000
8
Miracles From Heaven
$1,900,000 (-59.6)
$913
$56,930,000
9
God's Not Dead 2
$1,712,000 (-59.6)
$1,080
$16,956,000
10
Eye in the Sky
$1,561,998 (-46.1)
$1,753
$13,121,000
The Jungle Book grossed $103 million in its opening weekend and if it performs like Disney's other recent family-friendly fare, it'll have strong legs. If audiences embrace this film (and early reactions have been very positive), it has a strong shot of riding this initial haul to something upwards of $300 million at the domestic box office. With no direct competition for two weeks — Captain America: Civil War is going to stop every other movie in its tracks — The Jungle Book should continue to rule the roost for the rest of April. But like every other major release days, the real truth will be found in the second weekend. As Batman v Superman: Dawn of Justice has shown us, massive numbers can mean a lot of different things when you take careful note of now each weekend haul drops.
Although not quite as enormously impressive as The Jungle Book, Barbershop: The Next Cut opened in second place with a strong $20 million, matching the opening weekend of the original 2002 film but trailing the debut of the first sequel, released in 2004. Inflation suggests that this weekend haul is a little weaker than anyone would have wanted, but it's still a good start for a movie that didn't cost too much to produce. If the previous films are any indication, this one should stick around long enough to break $60 million or so.
The third new release of the week wasn't so lucky. Criminal stumbled into sixth place with only $5 million, a weak start for a movie that probably could have made a ton of money if it was released in the right decade (it's a '90s movie through and through). This isn't especially surprising since the reviews were weak and the buzz nonexistent, but it's another reminder that the days of Kevin Costner being a major movie star are long behind us and that Ryan Reynolds isn't a huge draw unless he's wearing red spandex.
Meanwhile, The Boss dropped a big (but not quite devastating) 56 percent at the box office, falling to third place and earning $10 million in its second weekend for a current haul of $40 million. The film is by no means a disaster and it will be profitable, but it won't hit the heights of previous Melissa McCarthy movies. She has Ghostbusters waiting in the wings, though. She'll be fine.
In fourth place, Batman v Superman continued to do weird business, grossing $9 million for a $311 million total. That looks like a good number until you remember how far it fell from its opening weekend. And until you remember that it's barely going to make more money than Man of Steel and won't come close to matching the heights of the past two Batman movies. It says something about how audiences reacted to Batman v Superman when you realize it will struggle to match Deadpool at the domestic box office.
In fifth place, Zootopia continued its astonishing and consistent run, adding $8 million to its total for a $307 million gross. In the back half of the top 10, My Big Fat Greek Wedding 2 and Miracles From Heaven began to wind down as minor hits, while God's Not Dead 2 continued to not attract the crowds that made the first film a surprise hit.