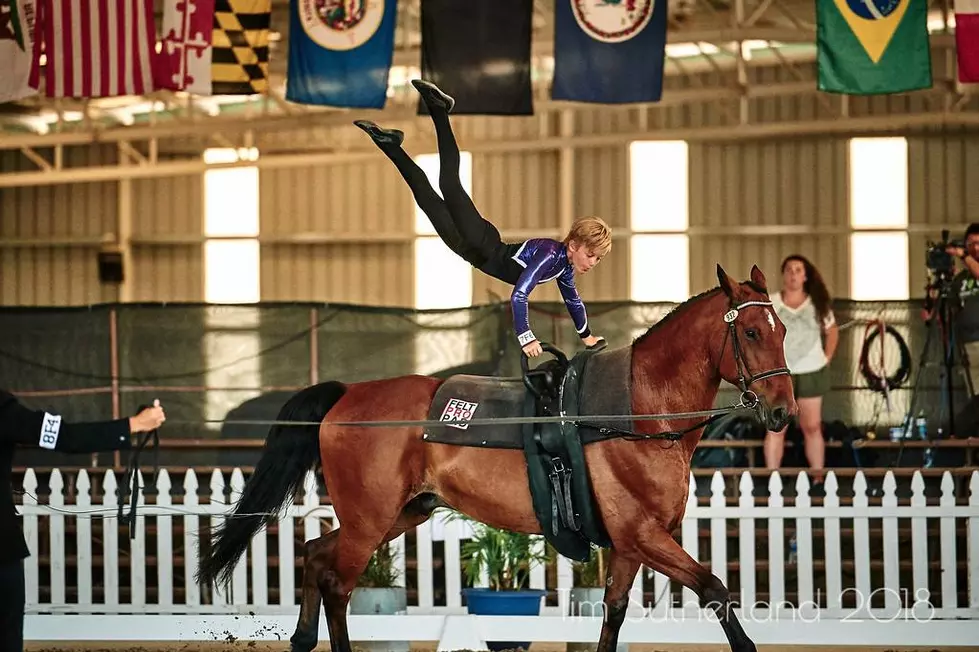 Watch People Do Gymnastics on a Horse for a Good Cause on February 22
Courtesy of Complete Equestrian Vaulters Facebook page
Doing a handstand is pretty hard (if you're me, anyway). Now, imagine doing a handstand on a moving horse. 
Sounds impossible, right?
It's not. In fact, there is an entire sport, called vaulting, dedicated to doing gymnastics on horseback.
We even have our own vaulting program right here in Northern Colorado — Complete Equestrian Vaulters (CEV), a non-profit that uses the sport to create a safe and empowering environment for our local youth.
"I learned long ago that horses could really, really help kids to learn about themselves," said Nicole Rau, the organization's owner. "I see so many benefits from equestrian vaulting...physically, emotionally, and mentally."
These benefits are particularly evident to Rau in CEV's therapeutic clinics, which work with special needs riders.
Whether a student has a physical or mental disability, the clinics aim to help them grow individually through vaulting. Some of the participants are even blind.
If you would like to see these hardworking vaulters in action, you can get tickets to the Heart Beats Gala, CEV's annual fundraiser.
The event takes place at 5 p.m. on February 22 at The Ranch Way Arena at The Ranch in Loveland.
Guests will enjoy catered food and a cash bar, while they watch entertaining, Valentine's-themed vaulting performances from the students.
Tickets are available here, and the proceeds will allow CEV to continue helping the youth of Northern Colorado.
"I've been able to see some kiddos that could barely make eye contact...and now they are actually teaching classes with me. It's amazing to see," said Rau. "Our program loves the help of our community and we are incredibly grateful for the support that we have."
To learn more about the Heart Beats Gala and the Complete Equestrian Vaulters, listen to the full "Tuned In to NoCo" interview with Nicole Rau below.
Enter your number to get our free mobile app