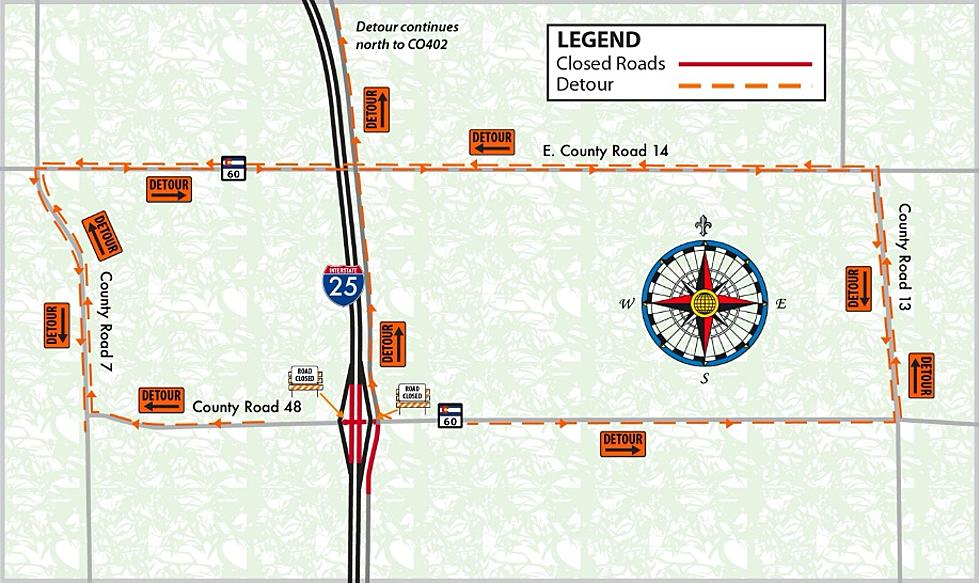 Upcoming Interstate 25 Closure at Johnstown Exit
Credit: Town of Johnstown
Starting on Friday, May 7 at 9 p.m. traffic in both directions on Interstate 25 will be detoured at Highway 60 in Johnstown. The detour will be in place to replace a 48-inch culvert that crosses Interstate 25 south of Colorado Highway 60.
The detour will also be occurring for setting bridge girders on the new bridge for Highway 60 that crosses Interstate 25. Construction work on Highway 60 will also close the highway to access across the bridge during the Interstate 25 detour.
The Highway 60 closure and the detour on Interstate 25 is expected to last over the weekend, with a reopening scheduled for May 10 at 5 a.m.
Completed construction of this interchange is expected to be Spring of 2022 and is part of the I-25 North Express Lanes Project. Once the interchange is complete at Highway 60, the interchange will have a diverging diamond traffic flow to assist in congestion.
Source: Johnstown Colorado
5 Most Dangerous Intersections in Fort Collins
NoCo Music Venues Then and Now