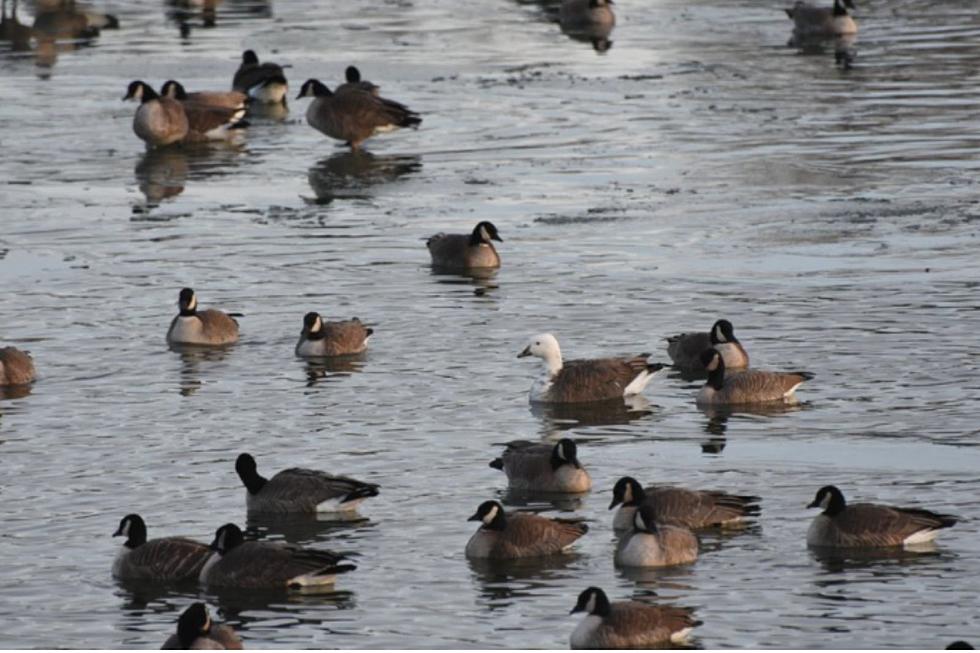 Uncommon Morph of Snow Goose Spotted in Colorado
Colorado Parks and Wildlife/Twitter
Wildlife officers love sharing interesting encounters that they experience while on the job in various places throughout Colorado, and on the flip side, we love to see them - especially when it's a sighting of a unique or rare kind of animal.
Coloradans are used to seeing Canada/cackling geese hanging out at lakes, reservoirs, and many other local places, but Colorado Parks and Wildlife recently posted a photo of a different type of goose that's not usually seen in the Centennial State.
Earlier this week, a 'blue phase' snow goose was spotted at Windsor Reservoir in Arapahoe County, and luckily, a CPW officer was on the scene to snap a photo. According to wildlife officials, this color morph of snow goose is fairly uncommon in Colorado.
As seen in the picture, the snow goose stands out from the rest of its feathered friends. A few people even thought the unique-looking goose was someone's domestic pet that had escaped.
Those looking to try to find this snow goose in person can visit the reservoir at Havana Street and Mississippi Avenue in Denver. Although uncommon, a Colorado resident noted that they've seen another snow goose that looks like this hanging around Crown Hill in Lakewood. Another Colorado citizen spotted a completely white goose at Lake Arbor in Arvada about a week ago.
Have you ever come across any unusual wildlife in Colorado?
39 Colorado Animals You May Run Into
A large variety of wildlife is just one of the many perks of living in Colorado. Check out this list and count how many of these animals you've seen in person.