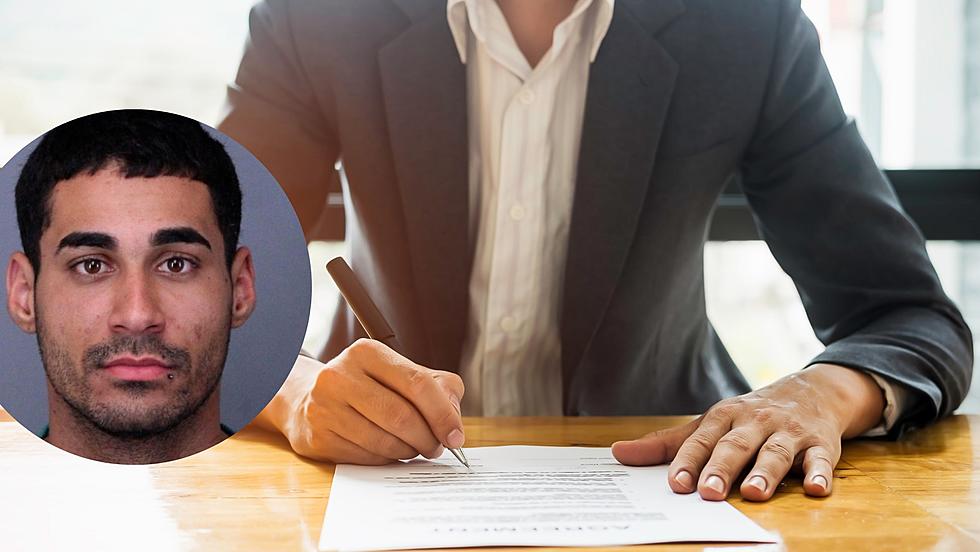 Trucker's Sentence For Fatal I-70 Crash Petitioned By Millions
Lakewood Police Department/Getty Images
Millions of people nationwide are rallying around the trucker who was just sentenced to over 100 years in prison for killing four people after crashing his malfunctioning semi into stopped traffic on I-70 back in 2019.
As reported earlier this week, Rogel Aguilera-Mederos, who is now 26, was sentenced to 110 years in prison on Monday, Dec. 13, as a result of the chain-reaction crash that took the lives of four — including Doyle Harrison, 61; William Bailey, 67; Stanley Politano, 69; and Miguel Lamas Arrellano, 24 — and injured several others in April 2019.
Read: Judge Hands Down 100+ Year Jail Sentence To Trucker Who Killed Four
In October, a jury found Aguilera-Mederos guilty of four counts of vehicular homicide, six counts of first-degree assault, 10 counts of attempted first-degree assault, four counts of careless driving causing death, two counts of vehicular assault, and one count of reckless driving.
As a result, he was sentenced to a mandatory minimum of 110 years in prison, as per the mandatory minimum sentence set forth under state law.
Prosecutors argued that Aguilera-Mederos acted recklessly during the Apr. 25 incident and made a series of poor decisions before the deadly wreck, which includes failing to use a runaway truck ramp on the side of the highway in an effort to prevent any accidents/collisions.
Meanwhile, during sentencing, District Court Judge Bruce Jones told the court that he had no discretion to impose a shorter prison term for Aguilera-Mederos, saying, "I will state that if I had the discretion, it would not be my sentence." according to the Greeley Tribune. 
Millions Sign Online Petition Demanding A Lighter Sentence For Rogel Aguilera-Mederos
As of Friday afternoon (Dec. 17), over 3 million people - and counting - have signed an online petition in regards to the fatal incident, demanding that 26-year-old Aguilera-Mederos either be granted clemency or commutation-as time served (aka a shorter sentence).
"This accident was not intentional, nor was it a criminal act on the drivers part. No one but the trucking company he is/was employed by should be held accountable for this accident.", the petition description, created by Change.com user Heather Gilbee reads, stating that the trucking company Aguilera-Mederos worked for faced multiple violations after several past inspections.
"No, we are not trying to make it seem any less of a tragic accident tha[n] it is because yes, lives were lost. We are trying to hold the person who needs to be held responsible, responsible. The trucking company has had several inspections since 2017, with several mechanical violations."
In closing, the petition reads: "Rogel has said several times that he wishes he had the courage to crash and take his own life that day, this tragic accident wasn't done with intent, it wasn't a criminal act, it was an accident."
You can view the full online petition here.
Truckers Stand With Rogel Aguilera-Mederos
Videos created by other truckers on the popular social media platform, TikTok, have been going viral in which truckers are seemingly refusing to travel through Colorado unless/until a change is made to Aguilera-Mederos's sentencing.
"This truck is no longer going to Colorado we want justice for Rogel Aguilera-Mederos... truckers he needs our help", the video above says. (@ntgi2020 via TikTok)
The video below reads "NO LOADS IN COLORADO" as the video camera pans to a large backup of trucks, reportedly protesting the sentence of Aguilera-Mederos: (@elchocolatitoherrera503 via TikTok)
Colorado Specialty License Plates You Rarely See
These license plates are available, but rarely seen on the roads of Colorado.
13 Crazy Colorado Laws That Make No Sense
There are laws everywhere - a lot of them we know about and abide by every day. But, there are others I'm willing to bet you knew nothing about.