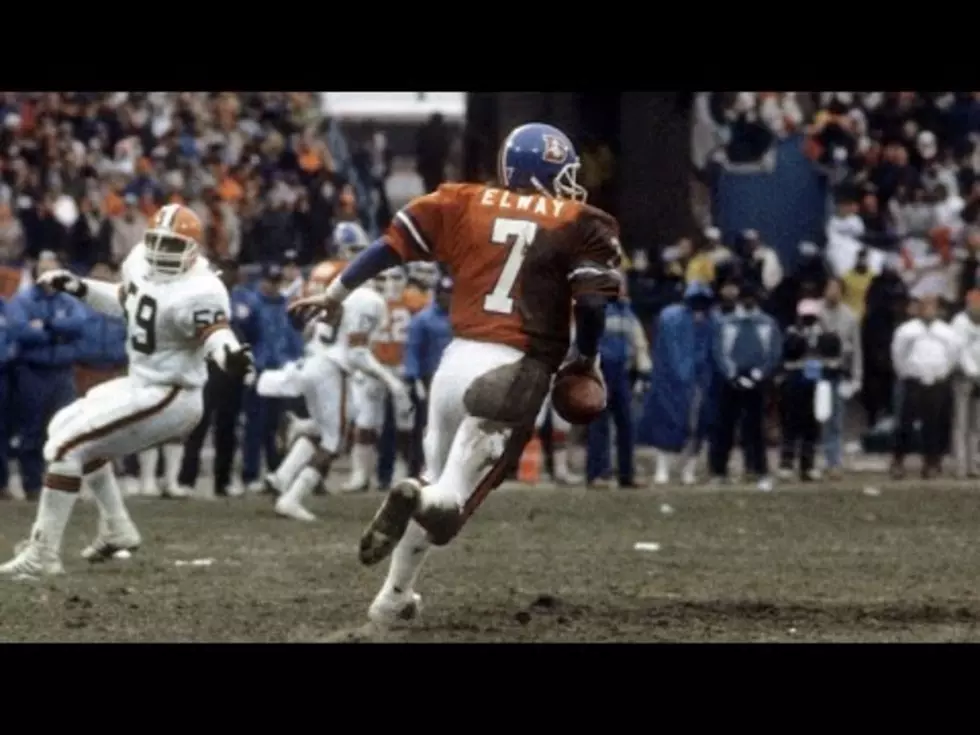 Throwback Thursday: Broncos vs Browns "The Drive"
youtube/NFL
The Broncos season is over and since we don't have a "By The Numbers" to prep us for an upcoming game for our football fix, I think it would be fun to do a "Throwback Thursday" every week to look back at memorabe Broncos games and players.
Let's start things off with arguably THE game that put John Elway on the map and started his rise in the NFL as one of the most dangerous quarterbacks in the league...especially in the 4th quarter and with the game on the line.
The game that became knows as simply "The Drive" occurred on the shores of Lake Erie in Cleveland, Ohio, during the AFC Championship match on January 11th, 1987.
I grew up about 60 miles from Cleveland and was a die-hard Pittsburgh Steelers fan, but this is also the day I became a John Elway and Broncos fan. This was largely because I HATED the Browns and the last thing I wanted was for them to go to the Super Bowl.
The Browns were REALLY good, though, and favored to win with a high-powered offense led by Bernie Kosar and his dangerous cast of characters. These ranged from receivers such as Webster Slaughter, Reggie Langhorne and Ozzie Newsome to a powerful running game, which featured the two-headed monster of Earnest Byner and Kevin Mack.
Defensively, the Browns were extremely tough, especially at home where the "Dawg Pound" created havoc for visiting teams with their voices AND their penchant for throwing dog biscuits on the field, creating an incredibly impressive home field advantage for the Browns.
The game was tightly contested without a lot of scoring until the Browns struck late in the 4th quarter with a long touchdown pass, followed by a botched kickoff that left the Broncos staring at a seven-point deficit 98 yards away from a tying touchdown at the very back of the dreaded "Dawg Pound."
The Cleveland Browns were 5:43 away from their first ever Super Bowl appearance...but John Elway and company had other ideas.
If you'd like to relive the ENTIRE game, here ya go...
Denver Broncos Forgotten Players