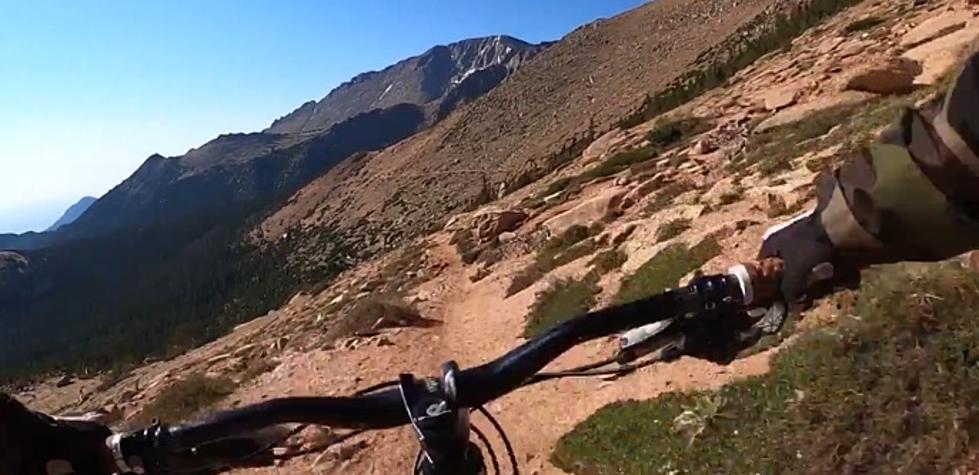 This Is What It's Like To Bike Down Pikes Peak [WATCH]
Reddit Video Pikes Peak
A cyclist recorded what it was like to bike down Pike's Peak, and the footage is pretty cool.
The cyclist used a GoPro Hero 8 to record the journey down the advanced 13 mile trail.
This is what the cyclist who captured the experience said on Reddit:
This is elk park; elk park ends on Barr. What people should do is ride lake moraine trail to avoid hikers. That being said we are allowed to ride down Barr and it is actually a lot of fun. Just so many hikers.

Reddit User @ghetto_headache
The trail this cyclist took takes experienced riders roughly 3.5 hours to get to the bottom via the Lake Moraine Trail due to "several very technical sections".
In those areas of technical riding the cyclist warned that getting off and walking several times throughout the ride would make the trek upwards of 8 hours to complete.
You can watch the video of the cyclist riding down Pikes Peak below.
The cyclist "highly recommend a beginner does not attempt" this trail, saying this about the video:
The video does zero justice to the technicality, and the exposure on the next section can be very rattling. Once you get into the 'chute' on elk park, it is very technical.

Reddit User @ghetto_headache
This trail has no cell service most of the way. Potential adventures should be prepared to "self support" should anything go wrong, as rescue is difficult and very time consuming, you'll be waiting a long while, according to MTBProject.
MTBProject broke down the insights of the trail, which you can see below:
4.1 
Miles 

Singletrack
6% Avg Grade (3°)
14% Max Grade (8°)
Enter your number to get our free mobile app
12 Authentic Colorado Ghost Towns