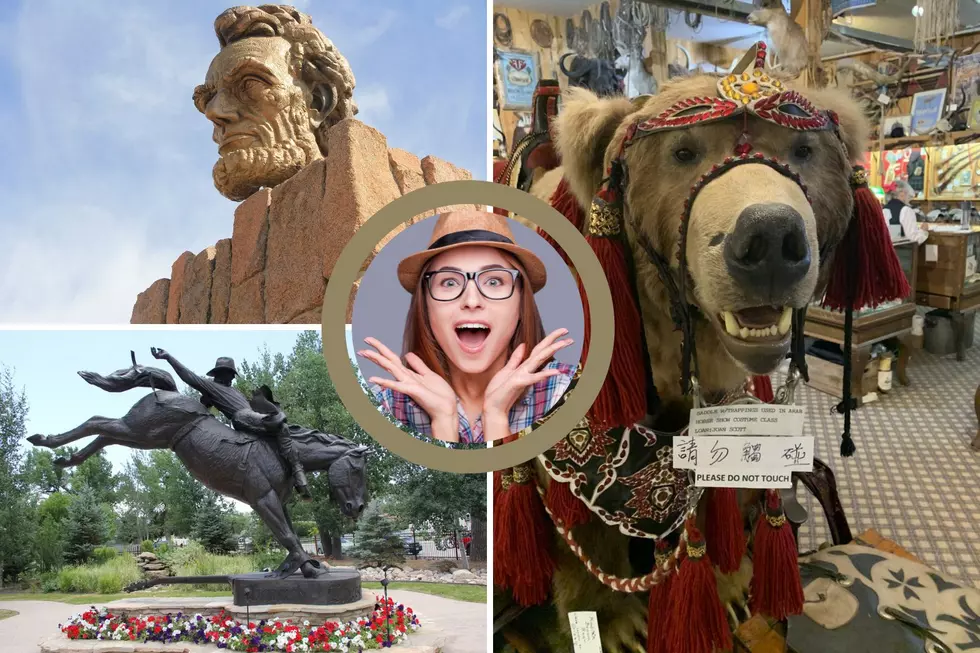 Spectacular Wyoming Roadside Attractions That You Must See
Bill Schwamle, Townsquare Media / CANVA
The Cowboy state has the smallest population in the United States, but we have plenty of wide open spaces. That means we have room for lots and lots of stuff. There are a lot of cool things to see, but you might have to drive a way to get there.
My wife and I like to go on road trips. We call them little adventures. Whether it is a day trip or a weekend getaway, we love exploring Wyoming. These are a few places I think are worth visiting. Some are just a quick pit stop like the Abe Lincon Memorial, the World's Largest Jackalope, or the Smith Mansion. Others are worth spending some time like the King Rope Museum in Sheridan or the Wyoming Territory Prison in Laramie.
I'm attracted to unique places. Things that give a place character or even make you say What the heck is that? Why is that there? These roadside attractions tell a story. How did that statue of the Big Boy get there? Some were locations of movie sets like Hell's Half Acre. The places have stories to tell if you know how to listen.
That is what this list is about. Not all of them may tickle your fancy but think of it this way. By reading this post, you don't have to drive anywhere. It won't cost you any gas. Then when you are ready to go on a trip, hopefully, this can be your inspiration. For me, I found them worthy of a least a few photographs.
Spectacular Wyoming Roadside Attractions That You Must See
All across the Cowboy Stare are oddities and wonders to behold. Some are natural wonders. Some are interesting things found in the middle of nowhere.
A Historic Hike To Wyoming's Outlaw Cave
The drive into the canyon is quite the beautiful drive. It's not too far from Kaycee, but you'll need a vehicle with good clearance and suspension. When you arrive to the Outlaw Cave Campground, you're mind is blown from the size of the canyon. The drive and hike are worth every minute spent on the road to get there.
Wyoming's Top 11 Museums To See
Funny, But Sad 1 Star Reviews Of Wyoming's Beloved Yellowstone National Park