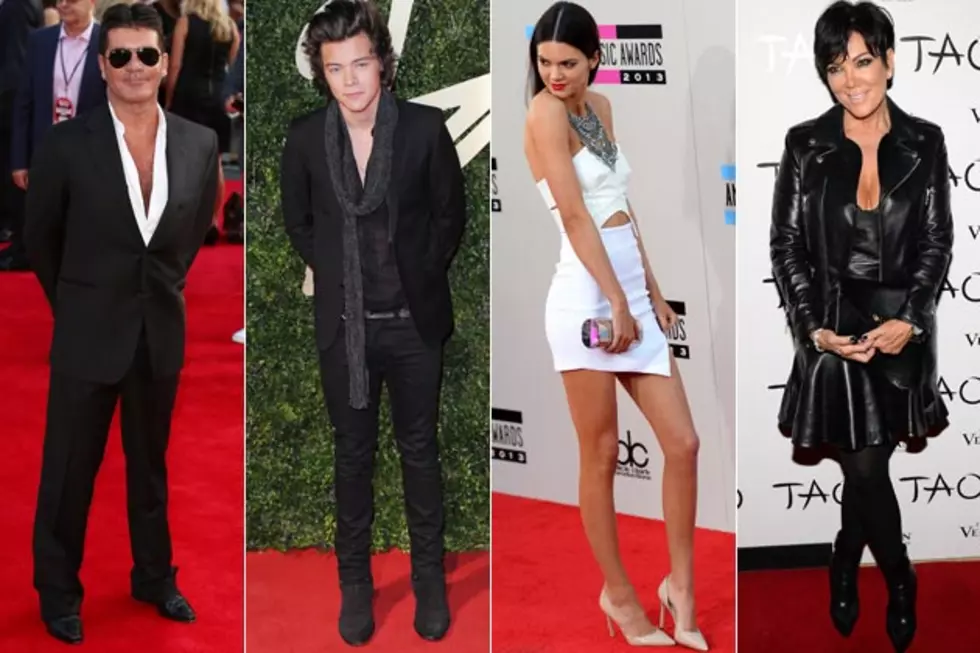 Simon Cowell Does Not Support a Harry Styles + Kendall Jenner Relationship
Tim Whitby / Stuart C. Wilson / Jason Kempin / Ethan Miller, Getty Images
One person who is decidedly not Team Kendall when it comes to Harry Styles (besides his ex Taylor Swift)? Oh, just Simon Cowell. And it's Kris Jenner's fault.
Why the heck does he care who Hazza dates? Simple. It could hit his wallet.
One Direction are a BILLION -- that's nine zeros -- dollar business, and Cowell has a financial stake and a vested interest in their success. And that's why he's not into the Hendall "thing." If it even is a thing. We can't tell if it's real or a PR stunt engineered by her momager, Kris Jenner.
Cowell apparently knows how Kris can be, since he dealt with her when daughter (and Kendall's half-sister) Khloe co-hosted 'X Factor' for a single season; she wasn't asked back.
Cowell was not pleased to learn that Kris was trying to get H. Styles to guest on 'Keeping Up With the Kardashians.'
Hazza does not want to appear on the reality show -- he has made that much clear. That should piss Kris off, since she knows a Hazza appearance would be ratings gold for her program. But Cowell knows that would do nada to enhance the 1D brand.
"When he heard Kris had already asked Harry to appear on the family reality show, he was livid. He told Harry that doing the show would not only be embarrassing, there'd be no benefit to him whatsoever," a source said about Cowell.
Cowell was also fuming and freaking over Kris and Kendall introducing the singer to Kanye West. Why is that a big deal? "By the end of that evening, Kanye was inviting Harry to come into the studio to lay down some tracks," an insider said.
Interfering with the 1D musical cycle and natural order of things, even if just to mess around in the studio, is not something the mogul takes lightly!
The source continued, "He's really worried about losing control of Harry. He knows his lead singer's been thinking about a solo career, so the last thing he needs is the Kardashians and Kanye digging their claws into the One Direction star and trying to separate him from the rest of the band -- not to mention Simon's record label!"
Well, Hazza has repeatedly shut down those solo rumors so people need to chillax. Plus, we don't think the Hendall thing is real, nor will it last. Just sayin'. PopCrushers, your thoughts?