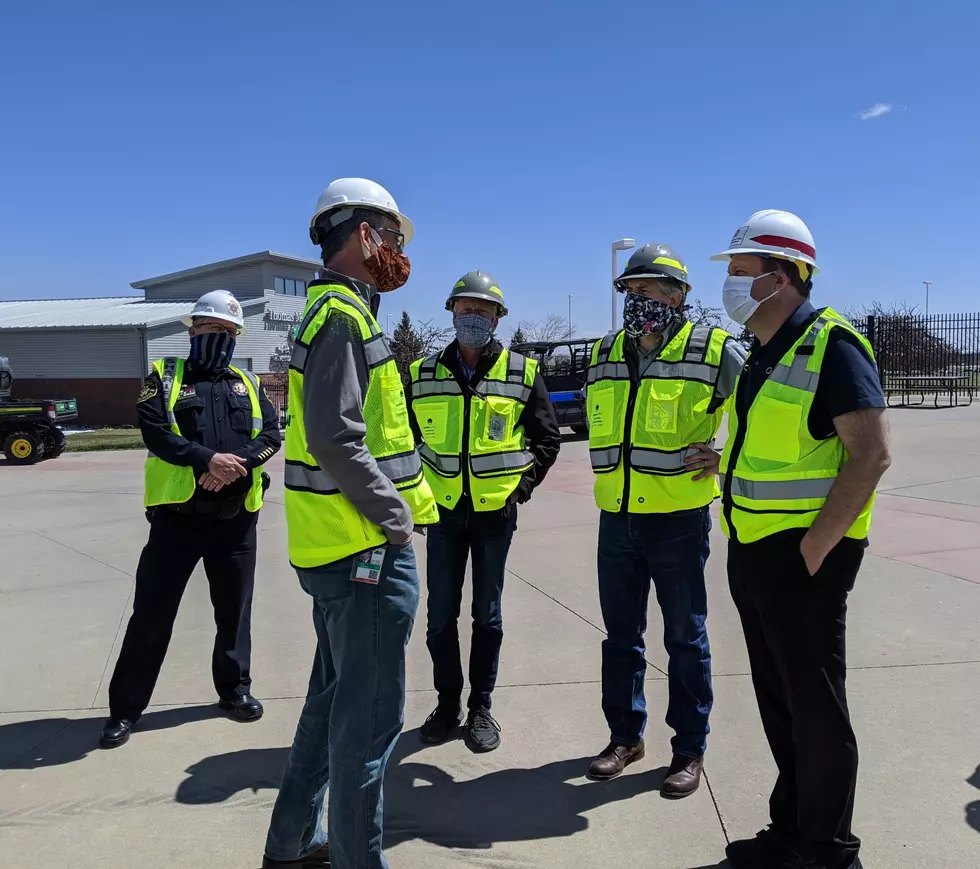 Jared Polis Tours Upcoming COVID-19 Care Facility in Loveland
Courtesy of Larimer County Department of Health and Environment Facebook page
Governor Jared Polis visited the upcoming COVID-19 facility in Loveland on Tuesday (April 14).
The facility is currently under construction at The Ranch, which used to be Larimer County's fairgrounds and events complex.
Now, the Loveland Reporter-Herald reports that it will serve as an overflow hospital for COVID-19 patients, should Colorado's current hospitals become overwhelmed.
Construction began on Saturday (April 11), and drywall for the first 200 rooms, oxygen pipes, air conditioning units, flooring, and framing are already in place.
The Army Corps of Engineers is heading the project, with Lt. General Todd Semonite stating that it will "have an incredible impact on this community and save lives."
Local contractors are also chipping in, which is providing a needed boost to the Colorado economy.
The first section of the property is set to open this Saturday (April 18), while the finished hospital is expected to debut around April 29.
Polis noted that he hopes it is not necessary to use the facility as early the 18th, but just in case, it should be ready to care for non-critical COVID-19 patients by then.
Two other overflow hospitals are in the works in Grand Junction and at the Denver Convention Center.
While Tom Gonzales, Larimer County's Public Health Director, stated that the stay-at-home order has slowed the spread of the virus by around 60%, Polis anticipates that cases will rise again once Coloradans return to work.
Once there is no need for the overflow hospitals, the state will return them to their original conditions.
This leaves the fate of Larimer County Fair, which is scheduled for August and takes place at The Ranch, in question.
For now, officials said the schedule for the fair is on a "wait-and-see pattern."
Enter your number to get our free mobile app
PHOTO GALLERY: Taste of Fort Collins 2019