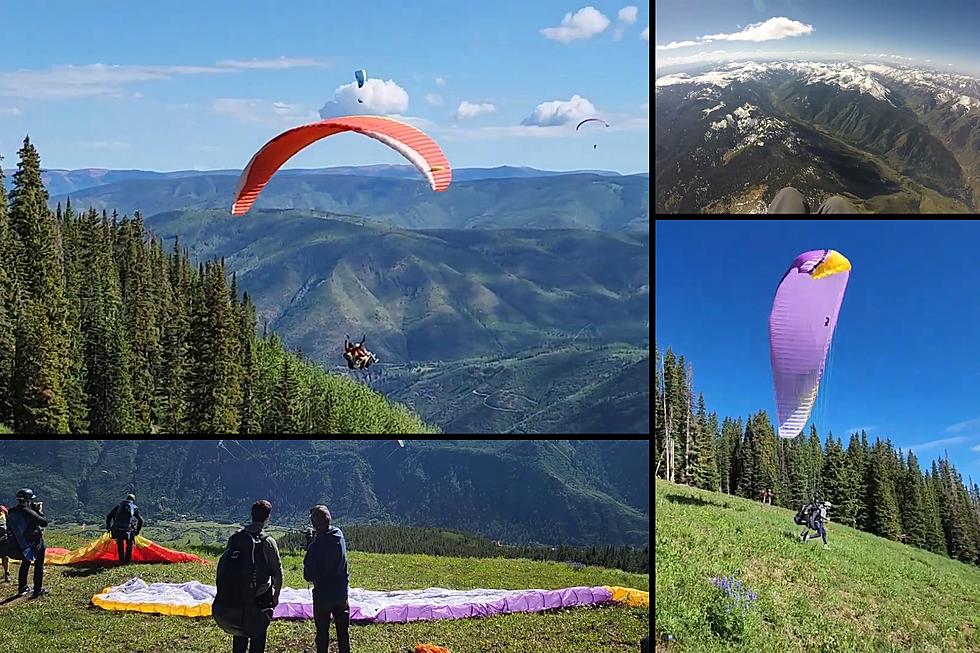 Spend a Day Paragliding over Colorado's Stunning Mountain Ranges
Canva Pro
Chances are that you have taken a flight over Colorado's Rocky Mountains a time or two, but have you ever flown over the mountains while paragliding?
This adrenaline-fueled adventure is not for the faint of heart, but the experience is one you will never forget. Scroll on to see what it's like to paraglide over the mountain ranges of Aspen with a go-pro in hand.
Paragliding in Aspen, Colorado
The team at Aspen Paragliding are pilots certified by the United States Hang Gliding and Paragliding Association as Advanced Tandem Instructors. They can fly you over the mountains from Snowmass to Aspen, or they can teach you to become a certified pilot yourself.
A typical flight from Aspen Mountain usually takes about two hours. Most flights reach an elevation of 11,000 feet with some going as high as 18.000 feet. Who's watching for the airplanes?
Things to Know Before You Go
Arrive early as the paperwork you'll need to fill out will be the first thing waiting for you when you arrive. You'll want to dress in wind protection and have proper footwear. Temps are colder at 11,000 feet so dress comfortably.
Flights lift off in the early morning hours during the summer. The first flights take off before 7 am. Aspen Paragliding flights include a pilot and one passenger. You sit up front with the pilot behind you.
Training to Become a Certified Pilot
I have nothing but respect for people who can not only master paragliding but are good enough to teach it to someone else. The training is intense over a six-month period to complete certification with an overall cost of around $10k.
Scroll on to see photos of the teams at Aspen Paragliding in action and to find out how to book this adrenaline-filled adventure for yourself.
Spend a Day Paragliding over Aspen Colorado's Stunning Mountain Ranges
Imagine taking a short flight from Snowmass to Aspen just like the bald eagles do. Aspen Paragliding offers adrenaline-filled adventures at around 11,000 feet for anyone daring enough to want to see the best view of the Rockies that money can buy. Find out more about paragliding over the mountains in Aspen, and how to add this activity to your Colorado bucket list.
LOOK: The Best Hot Air Balloon Rides Found Here in Colorado
Colorado's incredible hot air balloon attractions offer several different routes and rates. You can pretty much find a
hot air balloon
experience close to almost all the primary mountain ranges in the state.
KEEP GOING: Colorado's Amazing Mountain Passes Ranked By Elevation
Maintain a good grip on the steering wheel because we traveling to the top of the Rockies via Colorado's extreme mountain passes. Scroll on to learn more about mountain passes above 10,000 feet throughout the state.