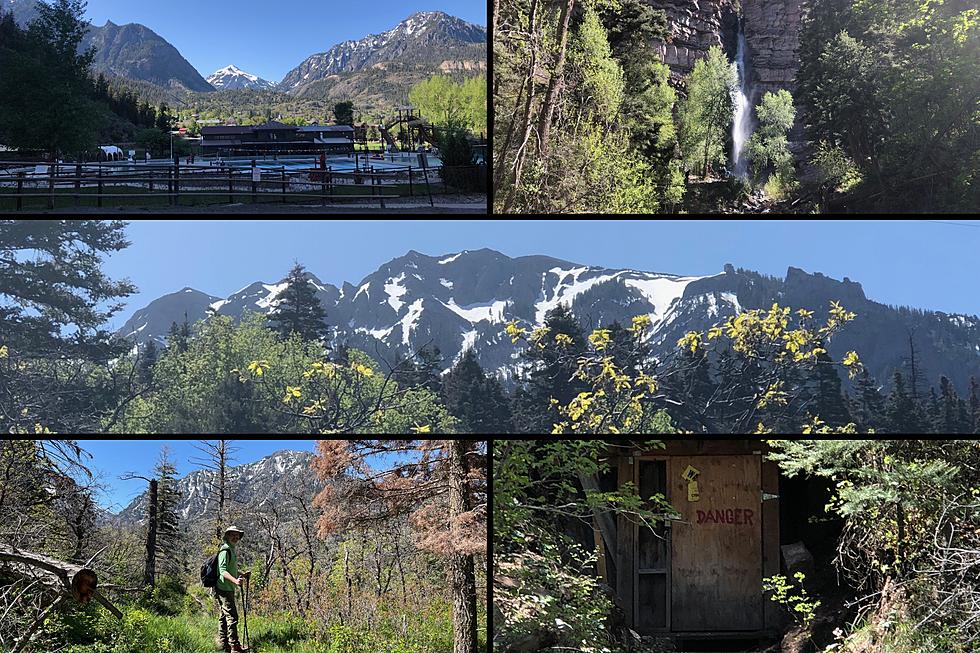 Colorado Hiking: 3 Tips to Conquer Ouray's Amazing Perimeter Trail
W Adams TSM GJ
I had been trying to get a decent weekend to go down and hike the Perimeter Trail in Ouray since late April. It rained every single weekend in May until Memorial Day weekend.
With four to five days of sunny weather in a row, the holiday weekend was a great window to get out and explore the San Juan Mountains on one of Western Colorado's most talked about hiking trails.
The Perimeter Trail Hike in Ouray, Colorado
The Perimeter Trail is the result of lots of hard work from the City of Ouray, the U.S. Forest Service, and the Ouray Trail Group. This 5.4-mile hike usually comes out at 6 miles by the time you make it back to the parking area with an elevation gain of about 1500 feet (if you complete the entire loop). This hike comes in at #2 on my list of great hikes in Colorado behind the Crag Crest National Recreation Trail. 
Three Tips for a Great Hike in Ouray
The first thing you will need for a great hiking experience is a sunny day. Wait for a day with no rain in the forecast before heading out to cover the entire trail. Even at a slow pace, it will take most hikers 3 to 4 hours to complete the six-mile loop. Several ledges along the route will be too treacherous for most casual hikers in rain or high winds.
Dogs on a leash are allowed on this trail, and while I love fur babies this gets a tiny bit crazy at times. Some remote locations along the route turn into dog parks with pups wagging tails and sniffing hikers. It's fun for the dogs yet also annoying for people just trying to complete that section of the trail. This was an odd little section of the hike. Be advised ahead of time you'll need your patience to get around the pups. Chances are they will take ten steps and stop again, and you can just go around.
Lastly, remember to yield to the folks climbing uphill on this trail. It's a tight squeeze at times, but it's pretty easy to yield the right of way to those huffing and puffing up the trail as you make your way down.
Visit the Hot Springs for a Post Hike Celebration
If you have never been to the Ouray Hot Springs Pool be sure to check it out as you head back to the parking area after the hike. Those hot spring pools will be very tempting. Learn more about the Ouray Hot Springs here. It's a great place to soak your bones after spending a day in the mountains around Ouray.
Colorado Hiking: Ouray's Amazing Perimeter Trail
To finish the six-mile loop around Ouray, Colorado on the Perimeter Trail is one of the best ways to experience hiking in Western Colorado. Scroll on to see some of our favorite views as we hiked the loop over the weekend.
LOOK: 25 Facts You May Not Have Known About Ouray's Amazing Hot Springs
Ouray's Hot Springs bubbled up along the Uncompahgre River from underground fissures for thousands of years before being known to the Ute Indians as the 'Miracle Waters'. Scroll through the photos below as we introduce 25 facts you may not have known about Ouray's famous springs.
MORE: Watch Climbers Take On Ouray's Via Ferrata
Big mountain views are paired with huge rock faces for the ultimate climb at Ouray's Gold Mountain Via Ferrata. This incredible adventure is open to everyone with no previous climbing experience required. Enjoy one of the best places on earth to experience Via Ferrata, Colorado's San Juan Mountains.