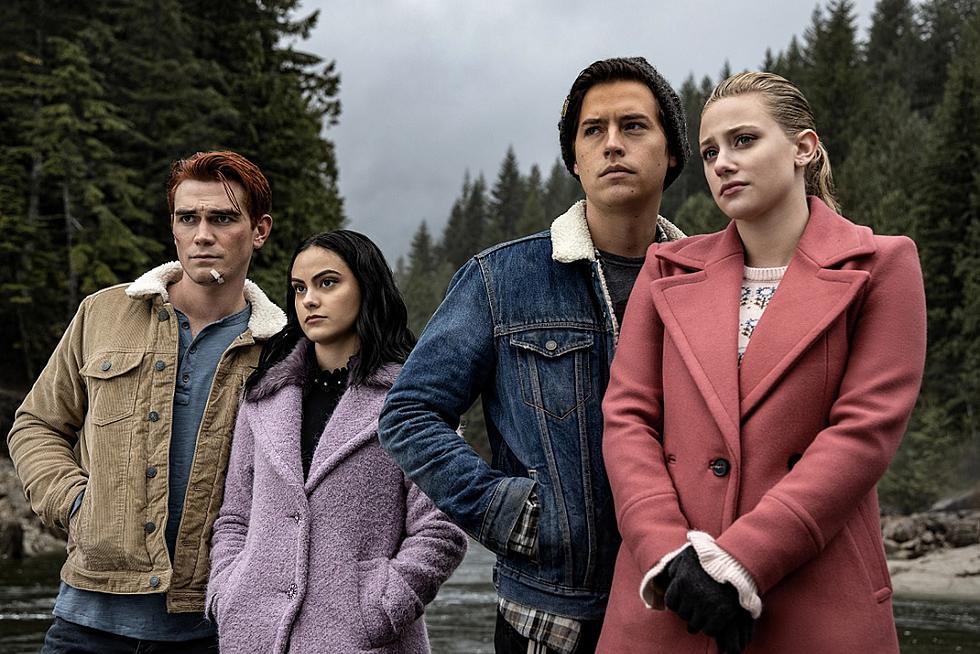 'Riverdale' Ends With Archie, Betty, Veronica and Jughead in a Polyamorous Foursome Relationship
The CW
Riverdale is officially over after seven seasons and, naturally, the teen series wrapped up in the most chaotically Riverdale way possible.
The series finale premiered on The CW Wednesday (Aug. 23) and revealed some bombshells about the beloved, chaotic group of main characters.
The most shocking moment revealed that Betty (Lili Reinhart), Jughead (Cole Sprouse), Veronica (Camila Mendes) and Archie (KJ Apa) were in a polyamorous relationship together, called a "quad."
According to Entertainment Weekly's recap, the core four were in a quad relationship during their senior year of high school before eventually going their separate ways.
Some fans reacted to the quad relationship twist with shocked amusement, while many other people were left not-so-surprised due to the show's reputation for wild, meandering plot lines.
One person called it a "here damn ass decision" since the outcome meant that the show never decided on one ship or another.
"Something about writers doing a poly relationship to get out of choosing an endgame is a little real," another viewer tweeted.
Another fan called it the "most slay ending possible."
"...The writers deciding to put all their mains in a poly relationship after years and years of the fandom engaging in ship wars is probably one of the [redacted] writing choices I have ever seen," someone else wrote on Twitter.
Warning: Below tweet contains graphic language.
The finale also revealed the fates of all of the Riverdale characters, with Veronica becoming a successful, Oscar-winning movie producer; Betty starting a magazine in New York City; Archie becoming a construction worker and writer in California; and Jughead starting his own magazine in New York City just like Betty.
The show's other main relationship, Cheryl (Madelaine Petsch) and Toni (Vanessa Morgan), ended up together in the end, becoming artists and activists and having a son named Dale.
READ MORE: 'Riverdale' Actor Ryan Grantham Sentenced to Life in Prison
The series ends for good with all of the characters in the Sweet Hereafter, hanging out at Pop's while drinking milkshakes.
"We'll leave them here, I think. Where they're forever juniors, forever 17 ... It's where they've, where we've, always been, in this diner, in this town, in the Sweet Hereafter. So if you happen to see that neon sign some lonely night, after that long journey, the journey that every one of us is on, pull over, come on in, take a seat, and know that you'll always be among friends and that Riverdale will always be your home. Until then, have a good night," Jughead says in the show's final moment.
Cheers, Rivderdale — you were our favorite love-hate watch!
Famous TV Locations in Every State
With so many series out there, it can be difficult to figure out which TV locations may lie within your own backyard. Through conducting independent, manual research using numerous news articles, state websites, and IMDb data, Stacker compiled a comprehensive list of significant TV filming locations in all 50 U.S. states. Locations that were set in a state, but filmed elsewhere, were not included—all of the locations are places that viewers can actually visit. Miniseries were also included.