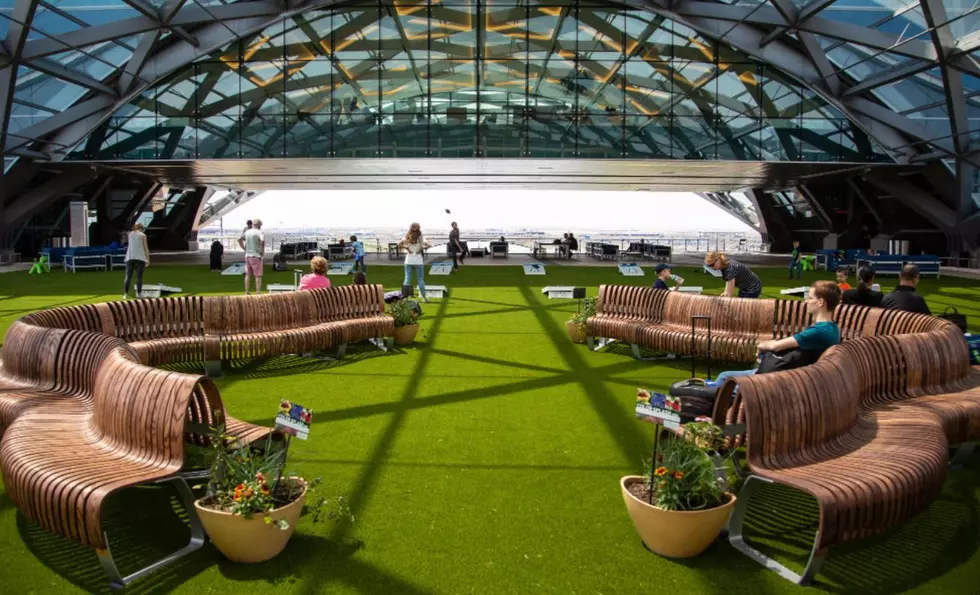 Did You Know You Could Golf And Play Cornhole At DIA?
Twitter/DIA
Ok ok, so it's not actual golf, just putt-putt. Still pretty cool though, right?
Even though Denver International Airport is pretty much a little city within itself where it's not out of the realm of possibility to actually have an 18-hole course, for now, we'll have to settle for putt-putt.
It's still a pretty fun way to kill some time at the airport while in between flights whether it be a long delay or your flight has been canceled, which seems to be happening a little too often these days.
The return of DIA's outdoor park is a welcomed sight for many travelers and seems like such a fun spot to hang out in a place where we normally wouldn't consider fun, an airport.
The outdoor park has all kinds of other cool stuff in addition to the putt-putt course,  things like concerts, cornhole, and other outdoor yard games. The park is located just between the Westin Hotel and the Jeppesen Terminal.
This looks awesome but I think if I did this there would be a very good chance that I would get caught up in the fun and probably miss my flight.
The course will be open for your putting pleasure from 10 am to 7 pm from June 17 to July 17. Not really sure why it's only open for one month, but one is better than none I guess.
The entire park itself is open through Oct. 2, and how cool is this - during the winter months, they turn this area into an ice rink.
The nice thing about this park is that it's really close to the parking garages and just down from the RTD A-line.
See, being stuck at the airport doesn't have to suck.
I Just Flew Out Of DIA - And It Wasn't As Bad As You Might Think
Denver International Airport (DIA) has been the talk of the town (ok, more like the talk of the entire state) these last few weeks, and not for good reasons.
It just so happens that I had travel plans of my own this week, which involved me flying out of DIA; after reading, hearing, and
blatantly seeing
just how brutal security lines at the airport have recently been, I naturally started to expect the worst.
In true fashion, however, I couldn't have been more wrong. Based on my very recent travel experience, I think there could be some relief in sight for those flying traveling in and out of Denver International Airport.
10 Highest-Paying Jobs in Colorado