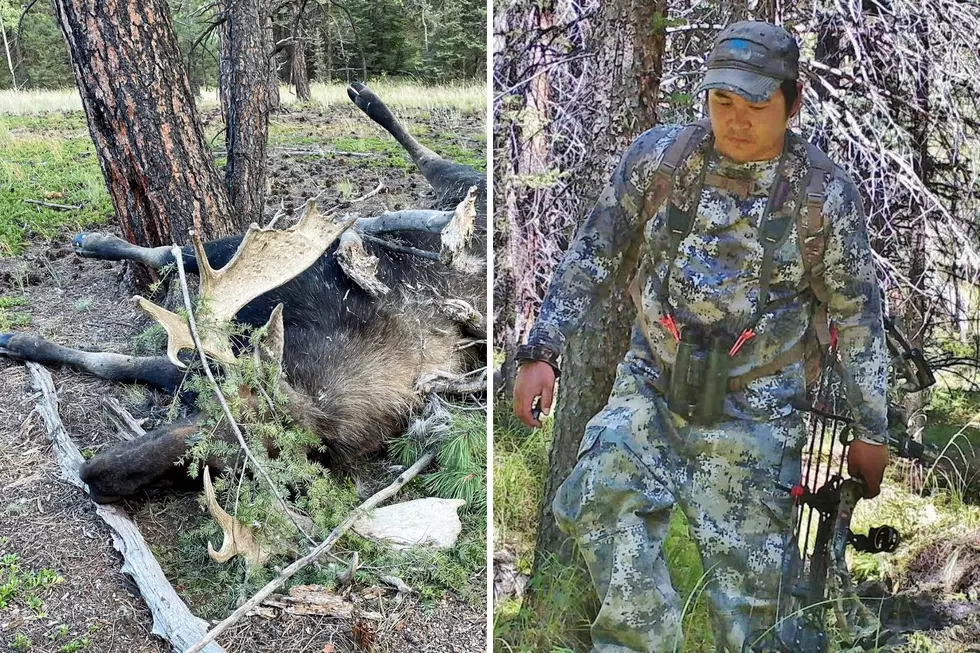 Colorado Parks & Wildlife Searching for Poacher Who Illegally Killed Moose
Colorado Parks and Wildlife
Colorado Parks and Wildlife (CPW) is looking for a man who illegally shot a moose in Teller County last year.
According to a news release from CPW's Southeast Region, the incident occurred in September of 2021, when someone discovered a dead mull moose in a Phantom Creek drainage site.
Investigators determined that someone had shot the animal with an arrow and attempted to remove its head before trying to cover up the evidence with tree branches.
After looking at footage from game cameras in the area, wildlife officials found that the moose was alive and well on the morning of Sept. 16. Five hours later, the camera caught footage of an unidentified archer.
"This is poaching and it's illegal and we want to catch the person who did this," said Travis Sauder, Assistant Area Wildlife Manager for CPW's Pikes Peak Region, in the release. "This moose was treated unethically and that is something we take very seriously. But we need the public's help catching whoever did this."
Saunder also hopes that the hunter in the footage will turn themselves in, nothing that "mistakes happen."
If you have any information about this incident, contact CPW at (719) 227-5200 or report it anonymously to Operation Game Thief by calling (877) 265-6648 or emailing game.thief@state.co.us. An unspecified reward is available if your tip leads to an arrest or citation.
If convicted, the man could face misdemeanor charges and fines of up to $13,000 or up to six months in jail.
These Are the Most Dangerous Animals in Colorado
It's no secret that Colorado is home to stunning wildlife. However, that doesn't mean we should interact with the wildlife — some animals are meant to be avoided. See the dangerous Colorado animals you should steer clear of in the gallery below.
Uncommon Animals of Colorado
It's pretty rare to see these types of wildlife in Colorado.