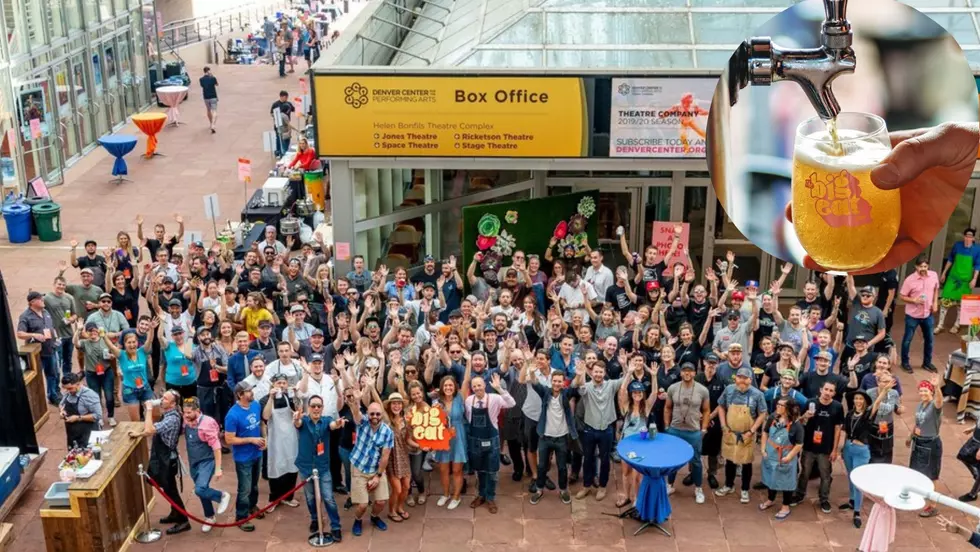 Bring Your Appetite Down To Denver For 'The Big Eat' This July
The Big Eat/Canva
I hope you plan on rolling into the end of July with a hearty appetite in tow - because one of Colorado's biggest, most indulgent events is back for another summer.
Following a two-year hiatus, EatDenver's The Big Eat is coming back for a mouthwatering in-person event in just a few weeks.
What Is The Big Eat?
The Big Eat is an annual event presented by and benefiting EatDenver that aims to celebrate the Mile High City's vibrant and dynamic independent restaurant scene.
Every summer, this one-of-a-kind food party features bites from more than 60 locally-owned restaurants (which are each organized and separated by neighborhood) in and around the  Galleria at the Denver Performing Arts Complex.
What's more? Participants are also invited to indulge in a series of cocktails, wine, cider, beer, kombucha, and tea—all included in one ticket price. Guests experience the best of Denver in one place, all while supporting the local restaurant community.
How To Purchase Tickets For This Summer's Event
Tickets to this year's edition of The Big Eat are available now and can be purchased via axs.com; tickets will run you $85 a person.
It is important to note that The Big Eat is an event only permitted to those 21 years of age and older.
EatDenver's The Big Eat takes places Thursday, July 28 from 6-9 p.m.
For more information about this summer's event, visit eatdenver.com. 
What Is EatDenver?
Founded in 2008, EatDenver is a 501(c)6 nonprofit restaurant association that works to support and strengthen the Denver area's community of locally-owned independent restaurants.
EatDenver focuses on strengthening the restaurant community, facilitating industry education and discussion, marketing independent restaurants, and advocating for their needs, value, and challenges.
25 Denver Restaurants Highly Rated On TripAdvisor
Planning a trip down to the Mile High City and don't know where to eat? Look no further.
These are 25 of the most highly rated restaurants in Denver, CO, according to TripAdvisor.
7 Things To Appreciate About Fort Collins After Going To Denver
Northern Colorado isn't perfect, no place is perfect but we have it pretty good here and after spending a lot of time down in Denver over the past several weeks, here are a few things that I appreciate that much more about living here in NoCo.