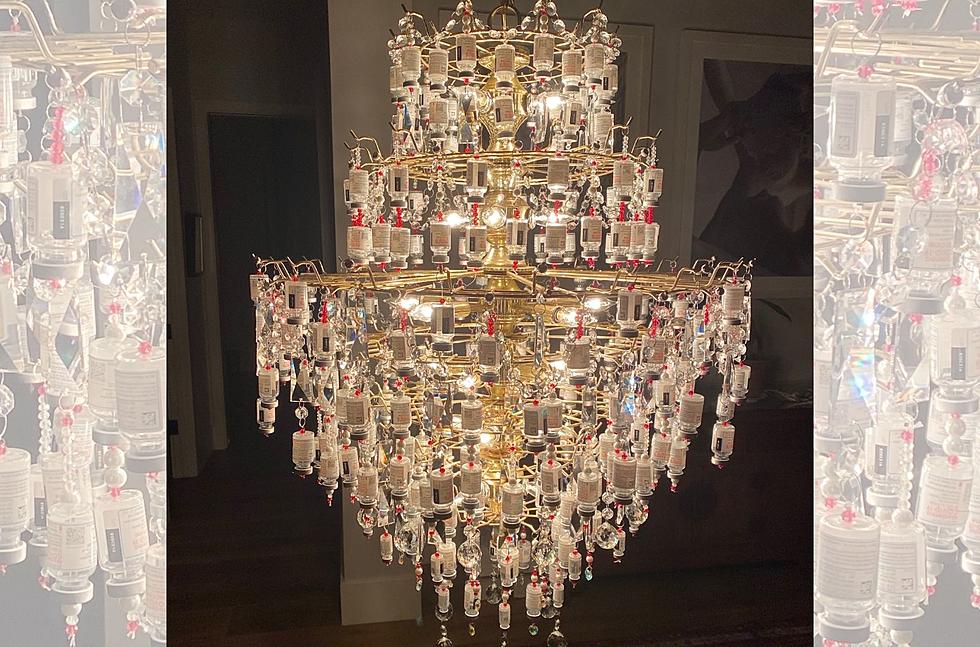 Art Piece Made of COVID-19 Vaccine Vials Now on Display in Loveland
City of Loveland
As they say, life imitates art. Or, in this case, is art imitating life?
The COVID-19 vaccine has been a hot topic since its debut. Now, it's the subject of a new art installation.
According to a press release from the City of Loveland, the Loveland Museum's latest display is a chandelier made up of COVID-19 vaccine vials. Laura Weiss, a local nurse, received permission from Boulder County Public Health (BCPH) to create the piece, which she calls "Light of Appreciation."
Considering that empty vaccine vials are hard to come by, Weiss' creation, comprised of nearly 300 vials, is particularly unique. So unique, in fact, that CNN covered Weiss' efforts last September.
"I had noticed all these hundreds and hundreds of empty vaccine vials that were otherwise going to be wasted, and I thought they were just really beautiful and wanted to do something significant and meaningful with them," Weiss said to the station. "I realized I wanted to do something with light because I just felt like it's been such a dark and challenging year for so many people that like the idea of bringing a light to this."
A representative for BCPH told CNN that they hope the installation encourages its spectators to get the COVID-19 vaccine.
"Light of Installation" will be lit up for 24 hours a day in the lobby of the Loveland Museum until mid-April. Weiss will answer questions about the piece during an opening reception at the museum on Friday (Feb. 11).
Explore Denver's Colorful RiNo Art District
Denver's trendy
River North Art District
features contemporary art galleries, hip concert venues, and fun bars and restaurants while incorporating historic charm with modern creativity throughout the area.
Strange Abandoned Colorado Home Covered in Graffiti Art
WARNING: Under no circumstances should you enter this property. By doing so you risk bodily harm and/or prosecution for trespassing on private property.
Deep in the Colorado wilderness sits a tall, narrow, abandoned home that is now covered from head to toe in graffiti art.