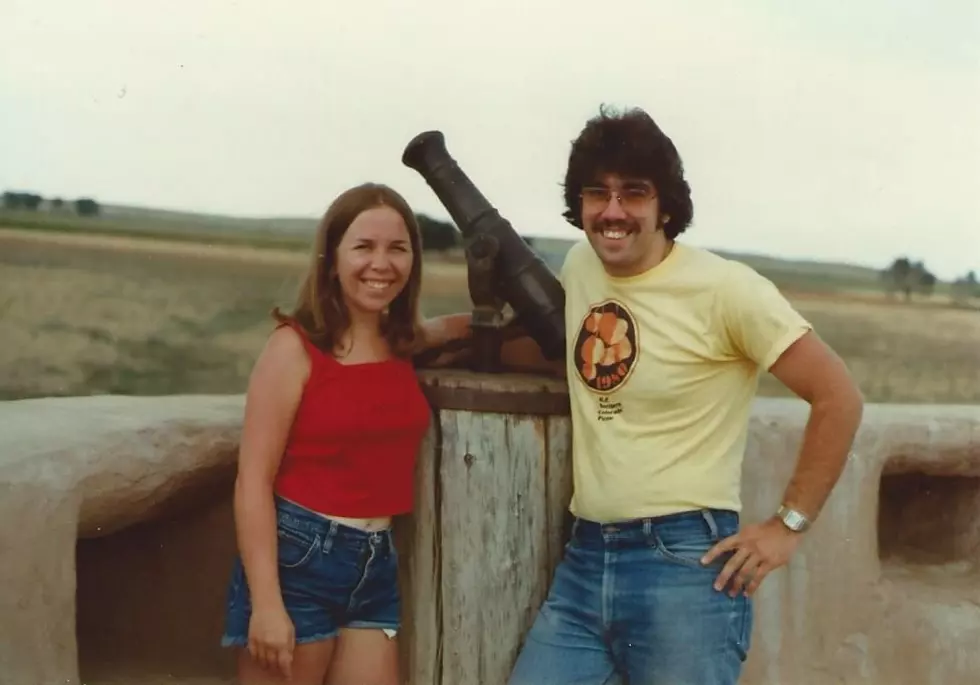 7 Fort Collins Bars Your Parents Partied At
My parents, Jean and Roger, at Bent's Old Fort in La Junta, Colorado. Mollie Kendrick/TSM
The nightlife scene in Fort Collins changes just as rapidly as the weather in Northern Colorado. And while it seems as though this phenomenon is unique to modern age, it actually isn't.
My parents, Roger and Jean, have lived in Fort Collins for over 30 years; my mother moved here in 1978 to study fashion merchandising at Colorado State University, and my father came here from Minneapolis in 1979 to begin his 35+ year with Hewlett Packard as an electrical engineer. They met in 1979 at a party in their apartment complex, and the rest is history.
During their 8 years of dating (yes, my mother's a real trooper), they and their friends had plenty of time to hit up the bars in Fort Collins. So I figured they'd be able to tell me a little bit about what Fort Collins' nightlife was like back in the late 1970s and throughout the 1980s.
There was one bar in particular they have many, many, many fond memories about, so I saved that one for last - but below are 7 bars my parents partied at, and there's a good chance your Baby Boomer parents partied at these places, too.
1

Before Old Town Square even existed, patrons would ride their bike (er, motorcycle) up to 117 Linden Street - an address that has since changed to 25 Old Town Square, where Lucky Joe's is today.

My father admits he'd only been there one time, describing it to me as something of a "biker bar." He also insists on calling Old Town Square the "pedestrian mall," but I call it what it is...Old Town Square.

Oh, dads. Gotta love 'em!

2

The basement of Little Bird Bakery once housed Sam's Old Town Ballroom, a venue that hosted rising stars and mid-level touring acts like Los Lobos, Boulder-based band Firefall, and even The Waitresses, who obviously knew what Fort Collins liked in the 80s: FUN music. (Hey, where'd that go? Oh yea, everywhere but Fort Collins.)

3

Before a big pink pig hung above the doorway at 214 Linden Street, clean and classy bar Linden's was the perfect place for baby boomers to mingle and groove to live blues jams. (Because you know they would say "groove.")

4

Orion's Belt was like the Studio 54 of Fort Collins, so I've been told. In the height of the disco music era (late 70s), this was the place to be to dance among the flashy neon lights and (dare I expose our parents' deep, dark, hypocritical secret?) PROBABLY do drugs.

The business with a Pinterest-ready wood grain exterior at 242 Linden Street closed sometime around the year 1980 and reopened as Electric Stampede.

Fort Collins History Connection Archive

Fort Collins History Connection Archive

5

This urban cowboy homegrown discotheque is where your parents country swing danced to David Bowie. Once it closed down, it hosted wedding receptions and corporate events as the Sunset Event Center.

Today, 242 Linden Street is the home of Galvanize, a coworking space for various Fort Collins businesses.

Fort Collins History Connection Archive

Fort Collins History Connection Archive

6

The way Washington's Sports Bar & Grill is today, is pretty much the same as it was back in the 1980s - taxidermy and all. My mother fondly remembers their dancefloor which still exists, but only for private parties and events, and their godawful taxidermy horse staring down at all the locals while they get "Baby Boomer wasted." Aside from the dead animals, their hearty bar food and arcade games happily live on.

7

It's December 2, 1983. Recent college grads and their engineer boyfriends decide to go dancing at the hottest venue in Fort Collins: Fort Ram.

Sitting at 450 North Linden Street, across the street from where New Belgium is today, the warehouse is their home on this chilly Friday night. They mingle with their friends at the heavy-duty picnic tables along the perimeter of the dancefloor, sipping on drinks they ordered from one of the 3 or 4 "HUGE" bars that line the warehouse walls.

Others are on the dancefloor movin' and shakin' to "Karma Chameleon" and "Mr. Roboto" when, at the stroke of midnight, everyone at Fort Ram comes to a halt.

On a single big white screen, a projector airs the music video premiere of Michael Jackson's "Thriller" on MTV. For 13 minutes and 40 seconds, the crowd stares in awe - some patrons sit down on the floor as if they're watching a Saturday morning cartoon.

According to my parents, Fort Ram was simply "the best" place to go dancing and hang out with friends. In fact, if this list was ranked, Fort Ram would be number 1. (But I wanted to save the best for last!)

But in the early 90s, music began to change and, dare I say, suck WAY more than it did in the 1980s. My parents tell me Fort Ram tried to adopt a more "family friendly" atmosphere, at which point they say the venue became totally lame (I agree, Phish is is a snooze fest).

One not-so-lame thing my parents missed out on, though, was that one time No Doubt played at Fort Ram before releasing their now-super-famous album Tragic Kingdom, as reminisced about in Scene Magazine. (But my parents were too busy changing my diapers to care about how fabulous Gwen Stefani is, so there's that.)

Eventually the space became Matrixx Nightclub; and now, either their SEO sucks or they're not even open anymore.